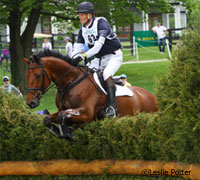 William Fox-Pitt and Cool Mountain held their lead after the cross-country phase of the Rolex Kentucky Three-Day Event. Photo: Leslie Potter
Horse Illustrated Senior Associate editor Holly Werner shares each day's results and scenery from the Rolex Kentucky Three-Day Event in Lexington, Ky.
Yet another day dawned rainy and wet, with extreme thunderstorms and "tornadic winds" forecast for the afternoon. It was announced early on that the ride times would skip the normal 11:45-1:30 lunch break in order to send riders through the course earlier and finish long before the usual time of 3:30. As I hiked out on to the course before the first horse was to start at 9:30 AM, the rain let up. Not long after that, the sun came out, and the rest of the day's rides took place in perfect weather and on perfect footing.
Rolex Grand Slam hopeful Oliver Townend jumped clean on his first ride, ODT Master Rose, with just 1.2 time penalties, putting them in 7th at the end of the day.
Courageous Comet and Becky Holder made short work of the jumps, looking just as good as their 2008 second-place Rolex finish, thundering by with lightning speed, finishing right on the optimum time. They moved up from 5th to 3rd, as Karen O'Connor's Mandiba had a few time faults and Allison Springer's Arthur unfortunately had a stop on course for 20 jumping penalties.
"I was determined not to pay too much attention to the clock," said Holder. "The main fence I was worried about was coming out of the water; Comet can be spooky about footing changes, and Phillip [Dutton] said The Foreman had a moment of not reading it. That made my decision, that I would loop around and take the long way. He finished full of run. I was clear and direct with my lines so he could see what I wanted him to jump. This is his eighth four-star competition, but you still have to go jump by jump."
Phillip Dutton moved from 8th to 4th with Woodburn after a double-clear ride, and also sits in 5th with The Foreman after just 0.8 time penalties. His fourth mount, Waterfront, was retired on course after a stop (Kheops Du Quesnay was withdrawn before cross-country).
Toward the end of the hectic order of go was William Fox-Pitt and Cool Mountain. Not surprisingly, Fox-Pitt expertly guided his horse through Cool Mountain's first four-star, maintaining their lead with a double-clear round. "I'm naturally very happy," said Fox-Pitt. "I thought the course would be quite demanding physically. My chap got a bit tired; he's a bit lazy and would have liked to pull himself up [part way through the course]–that's why he's good at dressage. He stayed on his lines though. You never know what the journey out here takes out of them. He was easily inside the time though; I can't complain at all."
Shortly after Fox-Pitt came Kim Severson and Tipperary Liadhnan. The pair moved from 4th to 2nd with a beautiful double-clear round. "Paddy's been a good cross-country horse all along," said Severson. "I was very pleased with him, despite trotting the corner in the water [after the first drop into the Head of the Lake]. He got more tired than I was anticipating; at 9 minutes [11:08 being the optimum time] he definitely got tired. It will be interesting to see how he comes out tomorrow."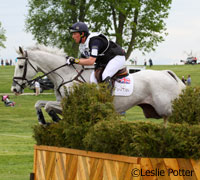 Oliver Townend and Cruise Master on the cross-country course prior to their fall. Photo: Leslie Potter
The otherwise perfect day was marred by several falls, including Dorothy Crowell, Jennifer Wooten-DaFoe, Kristi Nunnink, Tara Ziegler and Oliver Townend. As of this writing, all horses and people are in good condition. Townend and Zeigler both fell at the initial rail before The Hollow, which leads to two bounce-banks down. Although the jump was outfitted with frangible pins, they did not give way during the falls. The worst of the day's spills was taken by Townend and Ashdale Cruise Master, who landed on top of Townend after he popped loose over the initial hangup. According to a statement made at the media center, Oliver was conscious as he was airlifted to the University of Kentucky's trauma center, and Ashdale Cruise Master did not sustain any injuries.

Another interesting note was the first use at Rolex of a "deformable" obstacle, i.e. the polystyrene log at the second drop into the Head of the Lake (the first drop is over a brush fence). Having sat to watch many horses come through there, I can tell you that a lot of horses were giving that fence a good hard rub as they dropped into the water, so it was nice to know it was made of a forgiving material. Captain Geoff Curran and The Jump Jet actually broke the log in half, as a refusal came a little too late for the horse to actually stop his forward momentum. As he crashed into the log, instead of flipping over it, as might normally happen, the log simply gave way. They waited as a replacement was installed, then continued on course with no further problems.
Spectators seemed content to hit the road quickly to beat the impending rain storms after cross-country, and tomorrow will bring one final day of closely stacked competition. Whether Townend will make it back to ride for the Rolex Grand Slam aboard ODT Master Rose remains to be seen, but everyone here at HorseChannel wishes him a speedy recovery.
Current leaderboard:
1st–William Fox-Pitt and Cool Mountain (42.8)
2nd–Kim Severson and Tipperary Liadhnan (44.8)
3rd–Becky Holder and Courageous Comet (45.2)
4th–Phillip Dutton and Woodburn (47.7)
5th–Phillip Dutton and The Foreman (48.0)
6th–Karen O'Connor and Mandiba (48.5)
7th–Oliver Townend and ODT Master Rose (51.0)
More Rolex Coverage:
Rolex Day 2: Dressage
Rolex Day 1: Dressage
Record Numbers Starting in the 2010 Rolex Kentucky Three-Day Event
2010 Rolex Preview