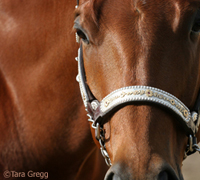 Sponsored by the American Quarter Horse Association, QuarterFest is a weekend filled with top-notch clinicians, a fun area for kids, evenings of entertainment and more. Attendees can bring horses to participate in clinics, or without to watch, learn and enjoy the events. Here are some of the highlights:
Clinicians include: Stacy Westfall (reining), Lynn Palm (English equitation and dressage), Julie Goodnight (common riding problems and solutions), Curt Pate (ranch roping and stockmanship), Tammy Pate (yoga/horsemanship and negotiating trail obstacles), Mike Major (versatility ranch horse), Ken McNabb (colt starting), Bo Winslow (horse camping), and Christy Landwehr (beginning horsemanship and youth riding lessons).
The QuarterFest playday kicks off April 30 and May 1, with fun games like egg and spoon horsemanship, apple bobbing and cowboy jousting, just to name a few. The competitions will be separated into age groups, with great prizes in each division. The cost is only $5 per session, payable at the gate. Special QuarterFest certificates of achievement will be mailed to participants riding American Quarter Horses.
While you're at QuarterFest, register to win a dude ranch trip to Red Horse Mountain Ranch in Harrison, Idaho. The vacation package is sponsored by the Dude Ranchers' Association, an AQHA alliance partner. Entries will be taken at the AQHA booth.
The Youth and Conservation Center at QuarterFest offers conservation information with interactive, hands-on fun. Additionally, visitors to the Youth Center can see the new Breyer horse model, Smokin' Hot Chic, a gray American Quarter Horse model that will be sold exclusively at QuarterFest. AQHA members get special pricing.
A Kentucky Derby Party will be held Saturday, May 1, at 4 p.m. Admission to the Derby Party is free once you're on the grounds of QuarterFest. The first 100 people coming to the QuarterFest Kentucky Derby Party will receive a free 136th Kentucky Derby commemorative mint julep glass. There will be many games going on during the party – hat contests, Kentucky Derby trivia, pick the winner, pick the order of finish and guess the time.
Stacy Westfall and Whizards Baby Doll, better known as "Roxy," will be part of the entertainment Saturday evening. Westfall and Roxy will perform one of their famed bridleless reining routines while Red Steagall provides entertainment in a fun-filled family evening. Westfall and Roxy will also be part of the opening ceremonies at the Alltech FEI World Equestrian Games, in Lexington, Kentucky, later this year.

To purchase clinic tickets, please call the QuarterFest hotline at (866) 424-RIDE. No clinic admissions will be sold online. Details and general admission tickets are available online. Check the website for the latest rules and regulations on transporting your horse to Tennessee and across state lines.