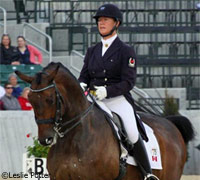 Canadian rider Jacqueline Brooks sports a helmet during the dressage freestyle at the Kentucky Cup Dressage event in 2010. Photo: Leslie Potter
In March of this year, American dressage rider and Olympian Courtney King-Dye (who competes under her married name, Courtney Dye) suffered serious head trauma after a young horse she was schooling slipped and fell. After spending weeks in a coma, she is on the road to recovery, working with therapists to regain the ability to speak and walk. Her accident intensified the ongoing debate over helmet usage in the sport of dressage. While it is rare to see upper-level dressage riders wearing helmets in competition, in most cases there are no rules prohibiting protective headgear.
The United States Equestrian Federation recently released the following statement on the subject.
In recent months, the USEF Dressage Department has received many inquiries regarding use of protective headgear in USEF/USDF-Licensed Dressage Competitions. "Protective headgear" is defined as a helmet which is ASTM/SEI-approved and has a secured harness. USEF General Rule GR801.6-.7 states:
"6. Except as may otherwise be mandated by local law, the Federation strongly encourages all riders, while riding anywhere on the competition grounds, to wear protective headgear with harness secured which passes or surpasses ASTM (American Society for Testing and Materials)/SEI (Safety Equipment Institute) standards for equestrian use and carries the SEI tag. It is the responsibility of the rider, or the parent or guardian or trainer of the junior exhibitor to see to it that the headgear worn complies with appropriate safety standards for protective headgear intended for equestrian use, and is properly fitted and in good condition, and the Federation, Show Committee, and Licensed Officials are not responsible for checking headgear worn for such compliance.
"7. The Federation makes no representation or warranty, express or implied, about any protective headgear, and cautions riders that death or serious injury may result despite wearing such headgear as all equestrian sports involve inherent dangerous risk and as no helmet can protect against all foreseeable injuries."
Riders competing in any USEF-Licensed Competition, including USEF/USDF-Licensed Dressage Competitions, are welcome to wear protective headgear, as outlined in GR801.4:
"Any exhibitor may wear protective headgear (ASTM/SEI) and/or a protective safety vest, specifically designed for use in equestrian sport in any division or class without penalty from the judge. The Federation recommends that the vest meet or surpass the current ASTM standard or be certified by the Safety Equipment Institute."
Specifically for dressage competitors, please note per USEF Dressage Division Rules (DR120.5) that a rider is welcome to compete with protective headgear at any level of competition, and should continue to wear a coat appropriate for the level of competition (either a short coat or a tail coat) while using protective headgear:
"DR120 Dress. 5. Riders at all levels of competition must wear one of the following: A hunt cap or riding hat with a hard shell, derby or top hat, military/police cap or hat, or protective headgear. Any exhibitor may wear protective headgear at any level of competition without penalty from the judge. Exhibitors choosing to wear protective headgear must wear a short, dark jacket, dark tail coat (only permitted for tests above Fourth Level), or Armed Services or police uniform (if eligible), dark hatcovers (where applicable) and must otherwise conform to DR120 (see GR801)."
For riders competing in an FEI Dressage Competition (CDI), please note FEI Dressage Regulations also specifically allow for any competitor to use protective headgear (Article 427.1).
For any questions, please feel free to contact the USEF Dressage Department: Eva Salomon at esalomon@usef.org; Jennifer Keeler at jkeeler@usef.org; and Jenny Van Wieren at jvanwieren@usef.org.
For updates on Courtney's progress, visit her website at courtneykingdressage.com