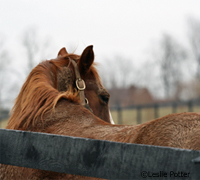 The United States Trotting Association (USTA) announced today its intention to offer support to Standardbred horses in the care and custody of animal control authorities because of neglect, abuse or abandonment.
The program, to be called "Support Our Standardbreds" (SOS), will extend assistance in providing feed, veterinary and other care to Standardbred horses in the legal custody of animal control officials anywhere in the United States.
"We believe this program will begin to meet two very vital needs that are either completely unmet or severely underfunded," said USTA Executive Vice President Mike Tanner. "This is a widespread problem that affects horses whose owners have failed to care for them and government officials are left with little to no funding to step in when care has fallen to a criminally low level. We have anecdotal reports of animal control officials not able to exercise their authority to seize horses because of a lack of funds to do so.
"While we recognize there are many horses in need of assistance in transitioning to a useful career, there are some programs in place to help them, for which we are grateful. That need is partially met. We saw this need as being completely unmet," said Tanner. "We want animal control officers throughout the country to know we will help them to restore a horse to health if they believe the best interest of the horse requires them to be removed from their owner's custody. We have $100,000 designated for this program. That is vastly more than is available now, which in many areas is nothing."
The USTA has begun outreach efforts to animal control authorities throughout the country to let them know of the association's willingness to assist Standardbreds in their legal custody. Those reading this story are asked to pass this information along to animal control officers in their areas.