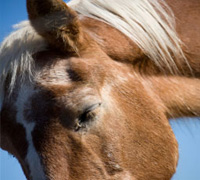 Highlighting rescued horses and talented local trainers, the HELP Rescue Me Trainer's Showcase will make its debut at 7 pm on Thursday June 10, 2010 at the Western States Horse Expo in Sacramento, California. Created and produced by the Grace Foundation of Northern California, this first annual event will not only provide quality entertainment for the whole family but will shed light on the benefits of adopting rescue horses.
The Trainer's Showcase will place rescue horses in the hands of skilled, natural horsemanship trainers. Coming from the local Sacramento area and as far away as Santa Cruz, San Jose and the Bay area, these trainers participate in a variety of disciplines including dressage, hunter/jumper, eventing, driving, cutting and reining. By developing the Trainer's Showcase, the Grace Foundation is able to advocate the use of rescue horses and make them available for adoption by Horse Expo attendees.
"When people think of rescue horses, many believe these animals are throwaways; horses that either no one wants or severely neglected animals that are deemed incapable of living productive lives. But the reality is that these horses were merely in the wrong place at the wrong time," says the Grace Foundation.
The Grace Foundation, a well-known equine rescue and rehabilitation facility in El Dorado Hills, California, uses unwanted horses as a tool in working with at-risk youth and special needs children and adults.
"What makes the HELP Rescue Me Trainer's Showcase even more exciting is that we are in the grass roots stage of taking this event nationwide. HELP stands for 'Honoring Equines for Life Project', and like the small animal shelter organizations, Grace wants to make large animal shelters and therapeutic riding programs part of the norm in our country," says The Grace Foundation.
Featuring the Trainer's Showcase, Silverado Studios will be creating a reality tv series titled "Saved by Grace". The series will follow the progress of the event's trainers and horses as well as the care and rehabilitation of horses at The Grace Foundation.
If you are unable to attend the HELP Rescue Me Trainer's Showcase, you can catch participating trainers and horses show off their talent in the Trainer Specialist Arena from 9 to 11 am on June 11th and 12th. For more information on The Grace Foundation, visit www.thegracefoundationofnorcal.org. To find out more about the events and activities at Horse Expo, visit www.horsexpo.com.