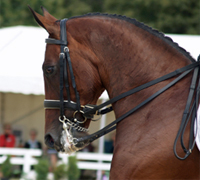 The unofficial start of summer is Memorial Day weekend, and this year horse lovers will be kicking off the season at the Northeast Equine Expo in New York. The festival takes place at Belmont Park, one week before the Belmont Stakes.
Over the course of the weekend, the expo will feature a variety of demos and clinics.
Susan Harris will give a demonstration of Anatomy in Motion. Harris uses her extensive knowledge of equine and human anatomy to help riders of all disciplines improve their balance, comfort and performance with their horses.
Cindy Laskow of Crystal Brook Stables will demonstrate the sport of show jumping.
Lorraine Burke and Hanoverian Sir Camelot will demonstrate classical dressage.
The Spirit of Long Island precision drill team will perform their acclaimed drill routine.
Tina McBride and Patricia Barbato will demonstrate the sport of reining.
The Long Island Long Riders will perform the fast-growing sport of Cowboy Mounted Shooting.
Oscar, the Paint who portrayed the title character in Hidalgo will be on the grounds signing hoofprint autographs.
Many other breeds and equestrian sports will be showcased during the Expo. In addition, the trade show offers extensive shopping opportunities for horse enthusiasts.
For more information, visit www.neequineexpo.com
Download the schedule here.