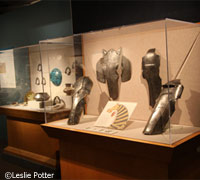 The Arabian is considered to be the first breed of horse, its history with humans dating back thousands of years.
The International Museum of the Horse in the Kentucky Horse Park is currently featuring "A Gift from the Desert: The Art, History and Culture of the Arabian Horse." This exhibit features a vast collection of early artifacts dating back to humankind's early interactions with the predecessors of the Arabian horse.
Among the pieces displayed in the exhibits are early bits, bridles, saddles, and other items of tack. A collection of artwork featuring Arabian horses spans centuries. A desert tent display shows how early Bedouins, the first breeders of the Arabian, lived and kept their horses. The exhibit displays artifacts not only from the Arabian's early history in the Middle East, but traces the breed's expansion to India, Europe and the Americas.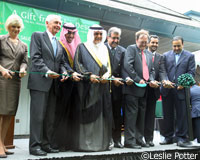 The exhibit had its official ribbon cutting ceremony on May 27. The opening was attended by Saudi royalty, representing the Saudi Arabian Equestrian Federation which helped to facilitate the exhibit. Kentucky Gov. Steve Beshear and his wife joined Prince Turki Al Faisal and Prince Nawaf bin Faisal bin Fahd bin Abdulziz in cutting the ribbon to mark the opening of the exhibit.
The exhibit will run through October 15.