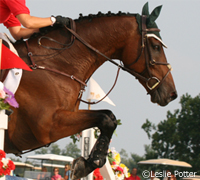 Equestrian Sport Productions (ESP) is thrilled to announce the second annual Winter Equestrian Festival (WEF) Souvenir Poster and Program Guide Contest. The team at ESP looks forward to selecting the official artist for the 2011 WEF souvenir poster, program guide cover, and t-shirt, based on artwork created by you!
In order to be considered for the top prize, contenders must submit up to three samples of their own artwork along with the completed application found below. Any type of medium is welcome, and the artwork does not have to be equestrian based.
Judges will choose the winner based on creativity, skill, and style. The panel will then work directly with the winning artist to create a new and unique design to be printed on the official 2011 WEF poster, program guide, and t-shirt.
Not only will the winning artist have artwork displayed on the different items for thousands of exhibitors and spectators to see, but will also be awarded $500 in prize money, a complimentary 10'x10′ vendor space for two weeks during the 2011 WEF, an e-blast announcing the winner to over 10,000 people, a featured article in the 2011 WEF program guide, and a one week art show in the foyer of the International Club.
This is an extraordinary opportunity to show off your artistic abilities to thousands of people during the twelve-week 2011 circuit and to have your artwork hung on posters in thousands of barns, homes, and storefronts.
Please submit the completed application along with a CD of your artwork to the address noted on the application below by July 1, 2010. The winner will be announced by July 15, 2010, and the final design will be completed by November 1, 2010. ESP will retain the rights to the final image to use however they wish. The application can also be found on the ESP web site here.
Your CD will remain on file and will not be returned. Please do not send original artwork. Photographs on the CD must be high res (300-600dpi) PDF or EPS files. For more information or questions, please contact Clara Lindner at lindner.clara@gmail.com.
For more information on Equestrian Sport Productions and their horse shows, please visit www.equestriansport.com.