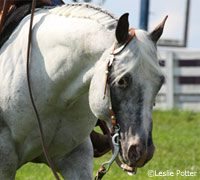 The Appaloosa Horse Club (ApHC) is offering a chance to stake your claim to your next show prospect at the 63rd National Appaloosa Show at the Mississippi State Fairgrounds in Jackson, Miss., June 21–July 3.
The addition of Western Pleasure and Hunter Under Saddle Claiming Classes at the National Show promises exhibitors, owners and spectators a night to remember in the Kirk Fordice Equestrian Center on June 26, 2010.
ApHC registered Appaloosas meeting all entry and stalling requirements and that are 2 years old or older are eligible for the new ApHC Claiming Classes. Horses must be inspected and entered by 5 p.m. on June 22, 2010. Entry fee is $110 and owners must turn in the horse's original Certificate of Registration and a signed transfer form at the show office in order to officially enter the class.
Appaloosas entered into the claiming classes can be easily identified in the barns by the specialized claiming class stall cards. Stop by the show office to see the list of entries and be sure to attend the two exclusive claiming class practices for a sneak preview of the talent!
You can stake your claim on the Appaloosa of your dreams by filing your completed claim form in the show office any time prior to and even during a portion of the claiming classes. Claiming closes when the judge's cards are turned in. The first person to file their claim form and the $7500 claiming fee on their choice Appaloosa will win the claim.
In order to be eligible to file a claim, you must be a current ApHC member in good standing. Memberships can be purchased at the show office.
For more information (including complete rules and regulations) about the ApHC claiming classes or the 63rd National Appaloosa Show, please call 208-882-5578 or visit www.appaloosa.com.