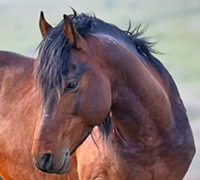 On June 3, 2010, Bureau of Land Management (BLM) director Bob Abbey announced intentions to change the course of the Bureau's wild horse and burro management strategy.
The BLM is currently seeking input from anyone with an interest in wild horses and land management to help create an updated strategy to be presented to Congress this fall. The BLM will be accepting feedback for the 2010 report through August 3.
According to Abbey, the new strategy will not include euthanizing healthy horses or sale of any Mustangs without protection from slaughter. Some options that may be included in the management strategy include: increased use of fertility control; introduction of wild horses and burros into areas where they do not currently exist; increasing the availability of forage for wild herds; and establishing herds for unadopted Mustangs and burros.
The BLM's currently scheduled wild horse roundups will continue as planned.
Read BLM director Bob Abbey's full statement regarding public input here.
Read the strategy development document and provide your input here.