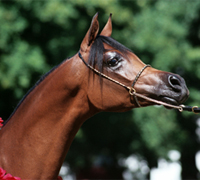 The latest major addition to the Kentucky Horse Park is a new section of the Park's International Museum of the Horse (IMH). The Al-Marah Arabian Horse Galleries showcase the Arabian breed's history, from its desert origins to its role as a competition and pleasure horse today.
Though their opening dates nearly coincide, the Arabian Horse Galleries are distinct from
A Gift from the Desert
, a temporary exhibit that will be on display at the IMH through October 2010.
The Galleries include interactive elements that will allow visitors to select a horse avatar that will become part of their journey through the exhibits. Video displays show Arabians in the show ring, at home, and in major Hollywood films.
The multi-media elements work alongside more traditional museum displays, which include artifacts from Arabian history, images of influential mares and stallions from the breed's early days in Europe and North America, and stories of the people who played a role in the development of the modern Arabian.
The Galleries were funded by the Purebred Arabian Trust and donations from the Arabian horse community for a total of $10 million, the largest single gift to the IMH in its history. The official name, Al-Marah Arabian Horse Galleries, is in honor of Mrs. Bazy Tankersly's Al-Marah Arabians. Tankersly has been a breeder and dedicated supporter of the Arabian breed for more than sixty years.
The groundbreaking for construction of the Arabian Horse Galleries was in April of 2008, and the official opening will take place on June 12, coinciding with the Pyramid Society Egyptian Event at the Kentucky Horse Park. The Galleries will be officially open to the public on June 14, 2010.