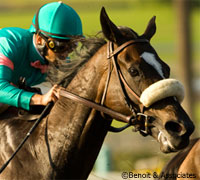 Zenyatta may have lost the 2009 Horse of the Year title to Rachel Alexandra, but the six-year-old mare continues to prove that she is unbeatable on the track.
On Sunday, June 13 Zenyatta reached a historic landmark with her 17th consecutive win at the Vanity Handicap at Hollywood Park. Not only has she maintained her perfect record, having won every race she's ever started, but she has broken the record for most consecutive wins. Previously, Cigar, Citation, Hallowed Dreams and Mister Frisky all held this title with 16 consecutive wins.
Zenyatta's racing career started relatively late for a Thoroughbred, with her first race coming near the end of her three-year-old year. Besides the distinction of an undefeated career, she was named American Champion Older Female Horse at the 2008 and 2009 Eclipse Awards. She is also the only female horse to have ever won the Breeders Cup Classic.
Zenyatta's owner Jerry Moss had considered retiring her at the end of the 2009 season. His decision to pull her out of retirement for one more season has proven to be a good one. Though the remainder of her season and her racing career are uncertain, Moss has expressed interest in entering her in the Breeders' Cup Classic this November at Churchill Downs.
Read more at ThoroughbredTimes.com