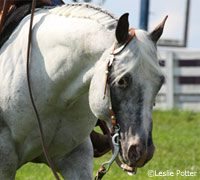 The annual National Appaloosa Show and World Championship Appaloosa Youth Show kicked off on Monday, June 21 at the Mississippi State Fairgrounds. The show continues through July 3.
For Appy enthusiasts who want to keep up with the goings-on at the show, the Appaloosa Horse Club is offering several options.
Online streaming video is available live from the show here.
Daily results from the National Network from the Appaloosa Journal will be available at the end of each day's competition schedule. Click here to view the National Network Online.
Regular updates will also be available through Facebook and Twitter
Classes held at the National cover nearly the full range of show ring events, including hunter/jumper, western pleasure, cattle events, saddle seat, gaming and reining. The full schedule of classes is available on the Appaloosa Horse Club's website here.
Read more about the Appaloosa breed.