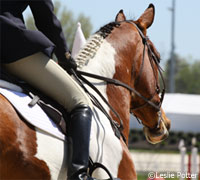 The first of two premier events hosted annually by the American Paint Horse Association (APHA), the Summer World Championship Paint Horse Show is a showcase for Paint Horse competition. This year's Summer World Show will take place June 23-July 3, 2010 in Fort Worth, Texas, at Will Rogers Memorial Center.
Youth will be the focus from June 23-June 29, with a full slate of classes including halter, English disciplines, Western classes, speed events, cattle classes and team events. A total of 73 Youth World Champions will be named—all sporting trophy Gist Silversmiths buckles.
In 2010, the Youth World Games is also part of the schedule. The World Games brings teams of young equestrians from all over the world together at the Summer World Show for a fun and unique contest based on horsemanship. Some changes have been made to the format of the Games to make it more similar to university equestrian competitions.
Furthermore, APHA has added seven Youth Solid Paint-Bred classes: Youth SPB Showmanship, Youth SPB Western Horsemanship, Youth SPB Western Pleasure, Youth SPB Hunter Under Saddle, Youth SPB Hunt Seat Equitation, Youth SPB Halter Mares (all ages) and Youth SPB Halter Geldings (all ages).
The 3-Year-Old Cutting Challenge returns to the class list, after a 5-year hiatus. Its inclusion will bring the total count of cutting classes to nine, including the 4-Year-Old Cutting Challenge and the 5 & 6-Year-Old Cutting Challenge. APHA adds $5,000 to each Challenge class.
A Youth Versatility Challenge has been added, with a grand prize yet to be announced. Each horse-and-rider team will compete in four events—hunter under saddle, Western pleasure, reining and barrel racing—designed to showcase the versatility and athletic nature of the American Paint Horse and the Youth riders, as well.
The newest and freshest class additions to the 2010 Summer World Championship Paint Horse Show come in the way of open all-breed jackpots; three of them, in fact. All riders of all breeds of horses are welcome to join the festivities as APHA hosts an open all-breed team roping jackpot on June 28, an open all-breed team penning jackpot on July 2, and an open all-breed ranch sorting jackpot on July 3.
Upon the conclusion of Youth classes, focus will shift to Open and Amateur cattle and reining classes through the conclusion of the show. Twenty-eight Open, Amateur and Novice Amateur World Champions will be named, while 12 Challenge and Sweepstakes classes will pay out $36,500 in added money alone.
To learn more about APHA or AjPHA and how to become a member, contact the Association at (817) 834-2742, or visit apha.com.