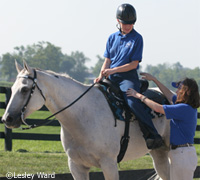 Careers in the horse industry are rarely glamorous. Hours are long and often irregular, working conditions can be inhospitable, and the salaries tend to be modest. However, many enthusiastic riders and horse lovers enter the equine-industry workforce every year, willing to put up with the difficulties for the chance to build a lifelong career working with horses.
The horse industry employment website Equimax.com is currently collecting input from anyone currently employed or seeking work in an equine-related field. The survey, available at
www.equimax.com/satisfactionsurvey
, asks participants to share what job attributes are most important, what they would change about employment in the horse industry, and whether they plan to continue their career in the industry.
If you are currently employed or looking for work in the horse industry, including college students aspiring to work with horses, visit www.equimax.com/satisfactionsurvey to add your input. After you have answered the questions, you will be able to view the current survey results.
Read more on working in the horse industry
Equestrian Careers
The Equine Apprentice
Be a Part-Time Groom