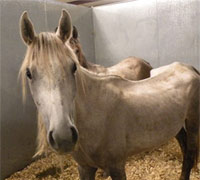 Another large-scale case of equine neglect has come to light with the June 9 seizure of 47 horses from Living Waters Arabians in Farmersville, Texas, near Dallas. The horses will be sold at auction this Saturday, July 10.
Details of the actual seizure are scarce, and Collin County Animal Services, which currently has custody of the horses, has not been able to make detailed info about the individual horses available due to short staffing. However, photos taken shortly after the seizure show emaciated horses, and reports suggest that most of them have not had much training or handling. The horses are said to trace back to the famous stallion Raffles and are smaller than average
Arabians
. Raffles stood only 13.3h at maturity.
Though the horses are said to be purebred Arabians, their prior owner has not released their papers to go with them through the sale. The horses have been dewormed and had Coggins tests.
The horses are being auctioned instead of sent to retraining or rescue facilities due to an order from the judge who presided over the hearing after the horses' seizure. Collin County Animal Services has set a minimum bid of $250 on each horse to reduce the risk of the horses being won by slaughter buyers or people without the resources to care for a horse. Horses that do not reach the minimum bid will be released to approved rescue groups with 501(c)3 status. Rescue groups are required to fill out an application and provide a letter of reference from a farrier and a veterinarian before they will be approved to take any horses.
Anyone interested in bidding on any of the horses can begin arriving at 8:00 on the morning of July 10 at Myers Park in McKinney, TX to view the horses. The auction will begin at noon. According to the Collin County Animal Control, the auction is tentative as the horse's owner still has the right to appeal. Visit the Collin County Animal Services website for updated information, including the location of the auction.