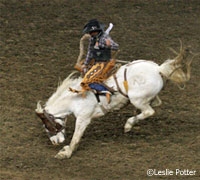 Since the early 20th century, the Calgary Stampede has been an annual tradition in Alberta, Canada. The Stampede includes a rodeo, chuckwagon races and livestock exhibitions designed to bring Alberta's western heritage to modern audiences.
The Calgary Stampede has received much criticism from animal advocates, and not without reason. In the rodeo's recent history, animal deaths have been a regular occurrence with 21 fatalities between 1995 and 2005. According to Peter Ficker of the Vancouver Humane Society, the Stampede has seen over 50 chuckwagon horse deaths since 1986. Sadly, this trend has continued in the first few days of the 2010 edition.
On Monday, July 12, three horses died in separate incidents. A horse from one of the chuckwagon teams suffered a fatal heart attack during training. Later, a saddle bronc bucked so hard that he broke his back and had to be euthanized. Finally, during a chuckwagon race on Monday evening, a horse being ridden by an outrider suffered a shoulder injury and was euthanized.
These three deaths followed a tragedy on Sunday when a team penning horse suffered a heart attack and collapsed on his rider. The horse died and the rider is currently in intensive care with a head injury and broken shoulder blade. With five days remaining in this year's Stampede, the animal death toll has already met last year's, when three chuckwagon horses died and one steer was euthanized after suffering a spinal cord injury during the steer wrestling event.
The Calgary Stampede maintains that it does everything necessary to protect the animals used in its events. According to the Stampede's website, the Calgary Humane Society and Alberta SPCA are involved in advising the Stampede on the best practices for animal care. Representatives from those two groups are on-site to monitor the animal events. This year, the Calgary Stampede created an Animal Care Advisory Panel to help evaluate and enhance standards for animal care at the event.
The Calgary Humane Society opposes the chuckwagon races due to the high fatality rate. The races run nightly throughout the Stampede.