UPDATE 7/15/10:
Select tickets for Dressage, Endurance, Eventing, Jumping and Reining competitions at the Alltech FEI World Equestrian Games are now available at with a 30 percent savings in a special promotion. Read more >>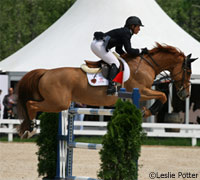 ORIGINAL ARTICLE 7/14/10:
"Ticket prices are outrageous!"
Tickets to the 2010 Games start as low as $25 for a grounds pass. Competition tickets also start at $25. Tickets for Eventing Cross-Country, Driving Marathon and Endurance are only $45. The average ticket price for the Games is $85 and the most expensive ticket is $150, for the Opening Ceremonies.
Let's compare these prices to other ticket prices. Individual tickets for a University of Kentucky football home game start at $46. Tickets for the popular University of Kentucky vs. University of Louisville football game are listed on findticketsfast.com, a discount ticket web site, for a minimum of $117. Tickets to popular concerts generally start at around $35 and double or triple that price as the seats get closer to the stage. For championship events, spectators are shelling out even more. Tickco.com has tickets for the Super Bowl starting at $1,800 and all-sessions tickets to the NCAA Final Four are listed from $541-$4,091.
These prices seem exorbitant when compared to what it costs to see multiple days of competition or to see all sessions of one discipline at the 2010 Games. Eventing, which is midrange when it comes to price per session, has six total sessions to watch. This includes four sessions of Eventing Dressage (two sessions per day) at $60 each, Cross-Country Jumping is $45 and Stadium Jumping is $105. The total price to see every session of the Eventing Championship is $390. Those prices are also premium seats. The six sessions at Price B seating totals $305.
Looking at other high-class equestrian events this year, the 2010 Games ticket prices are right on par. The upcoming World Equestrian Festival in Aachen, Germany is a prestigious horse show with competitions in Jumping, Dressage, Eventing, Driving and Vaulting. For final round Stadium Jumping tickets, premium seats range from £60 or around $76 to £135 or almost $171. The most expensive finals round Jumping ticket at the 2010 Games is $130. In addition, the World Equestrian Festival is not a world championship.
Another bonus for buying a competition ticket at the 2010 Games is that grounds pass admission activities are included. This means that the ticketholder will have access to all of the activities that are available throughout the park on the day they have a competition ticket. These activities include the Trade Show, for spectator shopping; the Equine Village, where top clinicians and breed organizations will be giving demonstrations; the Kentucky Experience, where spectators can explore Kentucky tourism in one place, and the Alltech Experience, showcasing the products and programs of the title sponsor.
After comparing other event ticket prices with the ticket prices at the 2010 Games, and after looking at what a ticket to the Games will include, it is safe to say that the myth that "ticket prices are outrageous" is officially busted.
Still not planning to go to the games? Keep up with all the news and results with our exclusive WEG newsletter. Subscribe here.
Read the latest WEG news here.