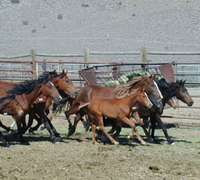 The highly controversial round-up of hundreds of wild horses in Nevada is on hold after seven horses died due to insufficient water. The Tuscarora gather was suspended by the Bureau of Land Management (BLM) until they can assess the conditions and plan how to proceed.
The gather began on July 10 and over 300 horses had been brought to a BLM holding area where they were given hay and water. On July 11, four horses were found dead and several were exhibiting symptoms of colic and brain swelling, which can occur in animals that have had large quantities of water after a period of dehydration. As of July 13, there had been 12 equine deaths during the short round up, most of them due to dehydration or related issues.
Opponents of the BLM's mustang round-ups have filed a lawsuit in relation to the Tuscarora gather, alleging that the BLM's actions violate the federal laws that protect wild horses. Wild horse advocates argue that conditions are too hot at this time of year, and that it is too close to foaling season to disrupt herds that include newborn foals and pregnant mares.
Currently, there is no set timeline for continuing the round-up, but the BLM does not plan to abandon it altogether.
Although the round-up is temporarily halted, the BLM is monitoring the herds that still remain wild in the area as there is concern about the drought conditions. The BLM has installed six water troughs, filled by a water tanker, as an emergency measure. The horses that were already brought in during the first few days are receiving hay, water and veterinary care.