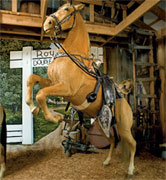 Anyone who grew up in the 1940s and 50s is familiar with Roy Rogers and his golden Palomino, Trigger. Known as "The Smartest Horse in the Movies," Trigger had a massive repertoire of tricks, including untying ropes, walking on his hind legs, knocking on doors and firing a gun.
Trigger's breeding is uncertain. His sire is said to be a
Thoroughbred
, but there are different reports on his dam's background. Some sources claim she was a
Tennessee Walking Horse
, but others say she was a grade horse. Despite his lack of a shining pedigree, Trigger (known as Golden Cloud prior to his partnership with Rogers) proved that he was a gifted performer early on. His first movie role was as Maid Marian's mount in a 1938 version of "The Adventures of Robin Hood."
Later in 1938, Roy Rogers met Trigger while searching for a horse to star in "Under Western Stars." It only took one ride for Rogers to decide that Trigger was the right horse for the job, and their lifelong partnership began. Trigger appeared in all 188 Roy Rogers films, the Roy Rogers Show on NBC from 1951-1957, and even made live appearances with Rogers to meet his fans in person. Trigger was retired in 1957.
After Trigger's death at age 30 in 1965, Rogers had his body preserved forever in a rearing position by a taxidermist. When the Roy Rogers-Dale Evans Museum opened in 1967, Trigger was included in the exhibits. The museum was initially located in Apple Valley, California, but relocated several times, ultimately landing in Branson, Missouri.
In December 2009, the Roy Rogers-Dale Evans museum closed its doors forever, and the artifacts and memorabilia in the museum's collection, including Trigger, were sent to auction at Christie's in New York. Christie's anticipated that Trigger would be a top seller, but he exceeded their estimate of $100,000-$200,000 by fetching a winning bid of $266,500. The top bidder was the cable and satellite network RFD-TV, which specializes in programming related to rural life. CFO Steve Campione told the Associated Press that the network intends to start its own Roy Rogers museum.
In addition to Trigger, Christie's is auctioning Dale Evans' buckskin Quarter Horse Buttermilk, the German Shepherd "wonder dog" Bullet, and Trigger Jr., a palomino Tennessee Walking Horse who helped lighten the original Trigger's workload in his later years.