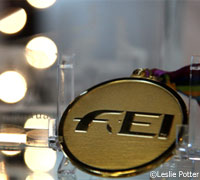 The honor that comes with winning a world championship title is intangible. The trophies and medals, however, are now in Lexington, Kentucky where they will be awarded to the world's best equestrians at the 2010 Alltech FEI World Equestrian Games (WEG).
The custom made trophies were unveiled on Thursday, July 15, 2010 at Lexington-based L.V. Harkness & Co. and will not be seen again until the WEG this fall. L.V. Harkness was approached by the WEG more than three years ago, and since that time they have worked with Czech company Moser Crystal to create one-of-a-kind pieces for each of the WEG disciplines.
The team trophies were created using a process called copper wheel engraving in which detailed images are carved into the crystal using copper grinding wheels. Each team trophy depicts the discipline for which it was created with a backdrop of the Kentucky Horse Park's skyline and fencing.
The individual trophies are laser engraved with a 3-D image of horse and rider.
L.V. Harkness specializes in luxury gift items with a special niche of equestrian gifts. The company's owner, Margaret Jewett, has deep ties to the horse world and is one of the founders of the Kentucky Equine Humane Center, a horse rescue near Lexington.