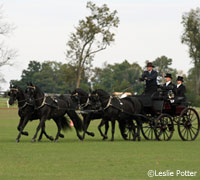 David Saunders competes at the 2009 Kentucky Cup Combined Driving Event. Photo: Leslie Potter
The United States Equestrian Federation has named the following drivers to the Nominated Entry for the 2010 Alltech FEI World Equestrian Games. From this group the Definite Entry (Team and Individuals) will be named to represent the United States in the Four-in-Hand Driving Championships. The 2010 Alltech FEI World Equestrian Games run from September 25-October 10, 2010 in Lexington, Kentucky.
Name/Age/Hometown
Jim Fairclough/51/Newtown, NJ
Tucker Johnson/46/Hobe Sound, FL
Bill Long/65/Southern Pines, NC
Mike McLennan/65/Brenham, TX
Cindy O'Reilly/47/Cameron, NC
Josh Rector/28/Phoenix, AZ
David Saunders/57/Morriston, FL
Gary Stover/61/Southern Pines, NC
Chester Weber/35/Ocala, FL
Casey Zubek/53/Manhattan, IL
See more World Equestrian Games driving news >>
Keep up with the latest news from the 2010 Alltech FEI World Equestrian Games. Subscribe to HorseChannel.com' s exclusive WEG Newsletter.