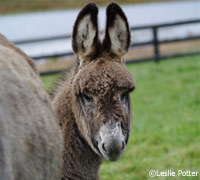 Beach-goers at a resort at the Sea of Azov in southern Russia were horrified by what was meant to be an advertising stunt for a nearby resort. Employees from the resort strapped a donkey to a parachute towed by a speedboat to advertise parasailing at the resort.
Instead of attracting tourists, the stunt upset many of the vacationers at the beach and caused children to burst into tears as the donkey brayed in fear overhead. The donkey floated above the beach for approximately half an hour before enduring a rough landing in the water and being dragged out onto the shore.
London newspaper The Guardian quoted a local woman who recognized the animal. "This is a little town and we all know that donkey well," she said. "He worked for several years on the beach, being photographed with tourists. As soon as his ordeal was over, a lot of the people on the beach ran forward to soothe him."
Though the donkey was strapped into the parasailing rig in front of beach-goers, many of whom took photos and video with their cell phones, no one stopped the men from carrying out the plan.
"The donkey screamed and children cried," police spokeswoman Larisa Tuchova told reporters. "No one had the brains to call police."
In the end, the publicity stunt has backfired on its organizers. They are being questioned by police and can face up to two years in jail if found guilty of animal cruelty charges.
Donkeys and other equines are often victims of cruelty across the globe. Their use as beasts of burden leaves them vulnerable to being overworked in third-world countries. Additionally, donkeys are often mistreated in the tourism industry where they are used to pull and carry visitors with little regard to appropriate size ratio of equine to passenger. When their useful days are over, the animals are often let loose to fend for themselves on city streets.
Learn more about helping donkeys and horses internationally.
International Charities Help Equine Victims of Poverty
The Brooke
The Donkey Sanctuary
World Society for the Protection of Animals