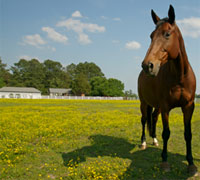 What do you do if you suspect your horse has ingested a harmful plant out in the pasture, or gotten into something hazardous in the barn? What if your barn dog gobbled up your horse's medication while your back was turned?
If your vet is not immediately available, the American Society for the Prevention of Cruelty to Animals (ASPCA) has another resource. The Animal Poison Control Center (APCC) is available 24 hours a day at 1-888-426-4435 and can provide information on how to help a horse or any other animal in a poison-related emergency.
The ASPCA offers the following information on using the Animal Poison Control hotline.
When you call the Animal Poison Control hotline, have the following information available, if possible.
the species, breed, age, sex and weight of the animal.
the animal's symptoms
information regarding the poison (if known), how much poison the animal was exposed to, and how much time has passed since the exposure.
The APCC's staff of veterinary toxicologists have access to an extensive database of information on various poisons. They can provide assistance in diagnosing and treating an affected animal.
Calls to the APCC may be subject to a $65 consultation fee which includes follow-up consultation for you or your vet in treating your horse or pet's case. If you need to call the APCC again with additional questions on your case, those calls are covered by the initial fee as well.
The ASPCA also maintains a list of plants that are toxic to horses, dogs and cats on its website here. Some plants that are potentially hazardous to horses include avocados and avocado leaves, oleander, cherries, milkweed, larkspur, dried red maple leaves and some types of tobacco. Most horses instinctively avoid plants that are toxic, but horses that do not have enough forage or curious young horses may resort to eating whatever is available.
Call the ASPCA's Animal Poison Control Hotline at 1888-426-4435 or find out more at ASPCA.org