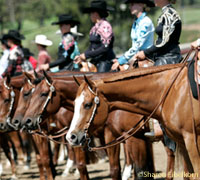 The American Quarter Horse Youth World Cup, which started in 1986, is an educational and leadership-based event for youth members from around the world that is held every other year. The culmination of the event is a showcasing of skills learned in an atmosphere of friendly competition. It gives youth a unique opportunity to learn in a hands-on setting with other international youth horse enthusiasts. At this year's Youth World Cup, there were teams representing 16 different countries.
At this year's event, Team USA won the gold, Team Germany the silver and Team Switzerland the bronze.
The 2010 American Quarter Horse Youth World Cup was a great place for attendees to learn a whole lot more about showing American Quarter Horses. Prior to each of the Youth World Cup classes, some of the industry's top professionals led the competitors through clinics. Here's what some of the clinicians had to say:
A cutter should avoid kicking his horse too much, which will get the horse uptight. Instead, the rider should let the horse relax and do its job.
– Boyd Rice, cutting clinician
A reiner shouldn't let his reins get too long. If you have to bend your wrist to make contact with the horse's mouth, you need to shorten up.
– Shawn Flarida, reining clinician
The point of western pleasure is for a rider to make her horse look like it's a pleasure to ride. A rider achieves this by sitting up and back, with a calm expression. All of this creates a look of confidence, which makes the horse look like it's fun to ride.
– Dave Dellin, western pleasure clinician
There are three basics to horsemanship: the rider needs to be sitting square on his horse but also be functioning; the horse needs to be square; and just do the pattern that is drawn on the paper and don't try to outthink the judge.
– AQHA judge Robin Frid, horsemanship clinician
Take your trail pattern slowly. The quicker a rider tries to get somewhere, the sooner things can go wrong. In the words of trail course designer Tim Kimura: "Focus on the process, not the result." How a rider approaches an obstacle is more important than the end result.
– Robin Frid
Judges look at the presentation of the horse in hunter under saddle by looking at how the rider rides the horse correctly. Encourage the judge to find you on the rail by keeping a consistent walk with forward motion. Judges also look for the rider to maintain light contact on the horse's mouth.
– AQHA Professional Horseman Carla Wennberg, hunter under saddle clinician
A western riding exhibitor should keep forward motion and extension in his horse's stride throughout the pattern. However, do not confuse a horse that is lengthening his stride for the lead change with one that is speeding up. Forward motion in a stride will create a picturesque, reaching lead change.
– AQHA Professional Horseman Charlie Cole, western riding clinician
A showmanship exhibitor should match her pace to her horse's pace, which will give the pattern a natural look. If exhibitors know their horses' rhythm, it makes it look like they've done their homework.
– Patti Campbell, showmanship clinician
To improve your hunt seat equitation strength and balance, practice posting exercises every time you ride. A possible routine would be to post along the short ends of the arena, ride in a two-point position down one long wall, then along the other long wall, you can sit one stride and stay in the upward position for two strides.
– AQHA Professional Horseman Andy Moorman, hunt seat equitation clinician
Following the clinics, Youth World Cup competitors got down to business and put in some phenomenal rides on horses that were loaned to the Youth World Cup from owners all over the United States. AQHA appreciates the owners who brought their horses to Oklahoma City for the Youth World Cup competitors to ride.
In the two-day competition, cutting and reining exhibitors competed under two judges, following their respective clinics. Horsemanship exhibitors competed on Days 1 and 2, but were also given an additional chance to compete. Each country nominated their best horsemanship rider to compete in the Horsemanship Showcase, a Youth World Cup event that was held during Battle in the Saddle on July 10. All of the other classes were held on days 1 and 2.
For the complete results, click here.