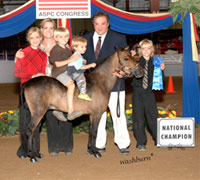 Free admission and family fun at the American Shetland Pony Congress Show to be held August 2nd-6th at the Hardy Murphy Coliseum at 600 Lake Murray Drive in Ardmore Oklahoma. Photo: Washburn Photography).
Small equines and their fans from throughout the nation are preparing to attend one of the biggest events in their industry. This year the 122nd Shetland Pony Congress Show will be held in Ardmore, Oklahoma on August 2-6th at the Hardy Murphy Coliseum. Participants will have the opportunity to compete in classes for driving, halter, jumping, youth, and costume. Competitors will be looking to win not only National Championship titles and show off their versatile ponies to the world.
The Shetland Pony Congress spectators can enjoy a diverse array of
Shetland Pony
classes. Admission is free to everyone at the show and spectators will have the chance to learn more about the American Shetland Ponies.
"We are excited to bring the American Shetland Ponies to Ardmore. Each time we come to a new show venue we are able to share our ponies with a new local audience. Since admission is free and classes run all day and into the evening, the Shetland Pony Congress is perfect entertainment for families, horse lovers and children of all ages," says Johnny Robb, Director of Marketing for the American Shetland Pony Club.
Last year's competition was one of the largest in five years which included 530 ponies and over 1800 entries competing for the National Championship titles in driving, halter, jumping, youth, and costume classes. There are a variety of Shetlands that the ASPC recognizes and many will be competing at the show including the Classic Shetland Pony, the Foundation Shetland Pony, the Modern Shetland Pony, the American Show Pony, and the National Show Pony.
New this year will be the USEF Shetland High Point Awards for Roadsters, Harness and Pleasure Driving as well as the Junior Exhibitor overall award. These new awards were donated by the United States Equestrian Federation to recognize USEF member's success with their Shetland Ponies.
The American Shetland Pony Club's 122nd Congress Show will be sponsored by several companies that all take part in supporting small equines, including Farnam's Platform Feed and Vetrolin Products, National Bridle Shop and Radon Horse Blankets. One lucky winner at Congress will be awarded the Vetrolin Grooming Award, sponsored by Farnam Companies. The winner will be awarded an entire year's worth of product for the "best groomed" small equine at the show.
For more information on the Shetland Pony Congress, visit their website at www.shetlandminiature.com/events.aspor call (309) 263-4044. For directions to the Hardy Murphy Coliseum call 580-223-2541. Congress show results will be available at www.horseshowsonline.com.