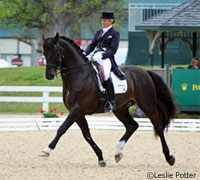 The United States Equestrian Federation (USEF) announced today that the following horse/rider combinations will be participating in the USEF Selection Trials for the 2010 Alltech FEI World Equestrian Games Dressage Team, held at the Collecting Gaits Farm/USEF Dressage Festival of Champions.
This class will be held as one of five National Dressage Championships in Gladstone, NJ over two weekends of competition. The competition runs August 6-8 and August 13-15, 2010.
In addition to the horse and rider teams named below, 2009 World Cup champions Steffen Peters and Ravel will be considered for the dressage short list as well. Steffen asked the USEF selectors for permission to forego the selection trials for logistical reasons. The selectors approved the request last month.
The Short List will be announced after the end of the selection trial on August 15. The Definite Entry for dressage will be announced around August 21.
The long-listed combinations are as follows:
Susan Blinks & Robin Hood
Tina Konyot & Calecto V
Lauren Sammis & Sagacious HF
Katherine Bateson-Chandler & Nartan
Adrienne Lyle & Wizard
Leslie Morse & Tip Top 962
Jan Ebeling & Rafalca
Todd Flettrich & Otto
Jan Ebeling & Sandrina
Pierre St. Jacques & Lucky Tiger
Catherine Haddad & Winyamaro
Shawna Harding & Come on III
Elizabeth Austin & Olivier
Susan Jaccoma & Wadamur
Jane Hannigan & Makysmilian