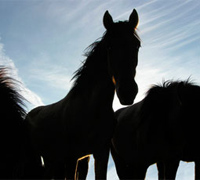 On Friday, July 30, humane investigators from the SPCA of Monterey County, California investigated reports of a herd of emaciated horses in San Ardo. At that time, the SPCA rescued one mare, who they later named Paris, because she was so severely emaciated that she was barely able to walk. They returned the following day with hay and water for the remaining horses, only to find that the approximately 18 horses had disappeared.
The horses were initially located on a property that is in foreclosure, and it was not immediately apparent who was actually responsible for the herd.
On Tuesday, August 3, the horses were located on an adjoining property. The SPCA investigators are still unsure if the horses were removed or if they wandered off the property on their own. They have now taken custody of all of the horses, some of which are believed to be in foal, and are caring for them while the investigation continues.
The horses were in poor condition and there was no food or water available to them on the property. The SPCA for Monterey County is offering a $5,000 reward for anyone with information leading to the arrest of the person responsible for the abandonment and neglect of these horses.
The horses may be available for adoption in the future after they have been brought back to full health. Paris, the mare initially seized from the property, has shown gradual improvement but is not yet out of the woods.
For more information visit spcamc.org