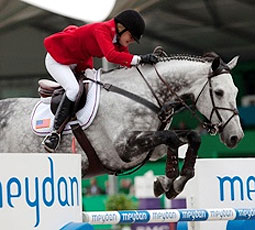 Candace King and Skara Glen's Davos: Part of the Winning Effort in Rotterdam (Erin Cowgill Photo).
Gladstone, NJ – After a hard-fought runner-up finish behind the Dutch in the final leg of the 2010 Meydan FEI Nations Cup at CSIO Dublin, the U.S. show jumpers secured second overall at the end of the prestigious series behind France. After eight CSIOs, the U.S. finished with 44 points, the second best result of the 10 teams in the series.
Split into three groups, the U.S. was represented by 15 different horse/rider combinations throughout the Nations Cup series, which was highlighted by wins at Rotterdam and top three finishes at Dublin, Hickstead, Aachen and La Baule.
The series spans the European continent over three months.
Under the guidance of U.S. Chef d'Equipe, George Morris, and with a huge range of experience, the U.S. squad used their time in Europe to prepare for the 2010 Alltech FEI World Equestrian Games, which will be held in Lexington, Ky., from Sept. 25 to Oct. 10, 2010.
The U.S. jumping team won team gold and Beezie Madden won individual bronze at the 2008 Olympic Games and will look to go one better than their team silver at the 2006 World Equestrian Games in Aachen, Germany (where Madden also won individual silver).