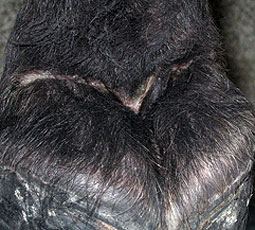 Courtesy USDA
NEW YORK—The American Society for the Prevention of Cruelty to Animals (ASPCA) has filed a legal petition with the U.S. Department of Agriculture's (USDA) Animal and Plant Health Inspection Service (APHIS) requesting new policies be implemented to intensify its enforcement of the federal Horse Protection Act (HPA).
The ASPCA, along with the Humane Society of the United States, American Horse Protection Association, Friends of Sound Horses and former U.S. Sen. Joseph Tydings, is asking the APHIS to strengthen its enforcement of the laws concerning the inhumane practice of horse "soring." Soring is an illegal training method that deliberately applies pain-causing chemicals, cuts or foreign objects to horses' limbs or hoof pads to achieve the "big lick," exaggerated show-ring gait of some horses in the multimillion-dollar Tennessee Walking Horse industry. The HPA was specifically enacted in 1970 to prohibit this inhumane practice, and yet it continues to pervade the gaited horse industry.
The ASPCA's petition seeks to permanently disqualify from competition HPA violators and any horses found to be the victim of soring. It also requests that mandatory enforcement protocols be implemented and any non-compliant horse inspection groups be decertified by the USDA
"The ASPCA is dedicated to improving the lives of horses across the country and we will continue to speak out against the illegal practice of horse soring," says Sherry Rout, legislative liaison for the ASPCA. "Soring is a particularly cruel form of abuse as the horses are forced to endure years of chronic pain throughout their show careers while the USDA does little to enforce existing laws."
For more information about the ASPCA's efforts to protect horses, please visit www.aspca.org.