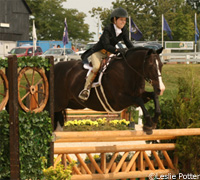 The 2010 United States Equestrian Federation Pony Finals National Championships got underway on Tuesday with the Green Pony model and under saddle for each section of Large, Medium and Small Green ponies. With the large number of entries that qualified over the last year of competition, each pony size was divided into multiple sections. The heat index was over 100 degrees for much of the day, but the riders kept their cool and took center stage in the outdoor Walnut Arena at the Kentucky Horse Park to showcase their award-winning mounts.
The USEF Pony Finals offer three phases of competition where the ponies are scored on conformation, way of moving under saddle and jumping ability. The riders are subject to scoring based on equitation and skill at piloting their pony over fences. Winners are declared in all six divisions: Small, Small Green, Medium, Medium Green, Large and Large Green Pony, and each year the points are tabulated to declare a USEF Green Hunter Pony Champion and USEF Regular Pony Hunter Champion.
Audrey Trimble from Westlake, Texas, with her pony, Nite Lite, took the top prize in the Large Green Pony Model. "It took 17 hours for the ponies to get here [from Texas]," noted Trimble. "This is only my second time at Pony Finals. This win is really special because this time it's on my own pony, and I've worked really hard over the last three years to get to this point."
The winner for the Large Green Pony Under Saddle was Model third-place finisher Victoria Colvin and Seven Steps. "This is only [his] seventh horse show, and he's great," said Colvin. "He doesn't spook at the jumps at all, but he's a little wiggy to ride. He's really fun though."
Sydney Shulman and Georgia, owned by Montoga, Inc. in Wellington, Fla., won the Medium Green Pony model. "Georgia's a lot of fun, and I really like to jump her," Shulman commented.
Next, it was Meredith Darst and Woodlands Tallulah, owned by Camila Conesa, to win the Medium Green Pony Under Saddle class. "It was really hot today, but it was fun and competitive division," said Darst. "We've had [Tallulah] for about six months, and she's really fun. We've been doing the regular division with her, and she's been so good."
Last of the day was the Small Green Pony division completing their model and under saddle phases. The model winner was Ashton Alexander with Rafael, owned by Bridlebourne Stables LLC, located in Elkton, Fla. "We got this pony in December," said Alexander. "He's totally my ride and canters great. He needs a little connection, but he's smart and a lot of fun. I really love coming to Kentucky, and it's so fun to be with my friends."
Parker Wright with Grand Jete earned another top placing when they won the Small Green Pony Under Saddle phase. "I am very excited about winning the under saddle," smiled Wright. "This is my third year showing at Pony Finals, but I just started riding this pony last week. He's really brave for being a green pony and not spooky at all. He just goes right around!"
For more information about the 2010 USEF Pony Finals, visit www.usef.org. To view video and photos from the event, visit 2010 USEF Pony Finals National Championships – Club Equestrian.