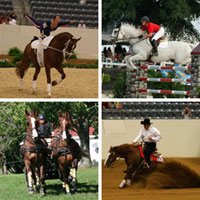 There are 101 different athletes (some nominated on more than one horse) from 21 different states nominated to represent the United States at the biggest equestrian event in US history. The Alltech FEI World Equestrian Games is the first opportunity to see all eight disciplines: Dressage, Endurance, Eventing, Driving, Jumping, Para-Equestrian Dressage, Reining and Vaulting in one place at the same time when these games come to the Kentucky Horse Park in Lexington, KY September 25 – October10, 2010.
With 36 days left until the Opening Ceremonies at the Games, the United States Equestrian Federation (USEF) has named all its horse/rider combinations, drivers and vaulters to the Short Lists/Nominated Entries for each of the eight disciplines. From these groups the Definite Entries will be named to represent the United States. It will be these riders who will take on the world on their home turf as the World Games leaves Europe for the very first time.
California has the largest delegation of potential athletes, with 35 – of which 25 are Vaulters. California has long been known as the hub of Vaulting, but is also home to riders representing Dressage, Endurance, Jumping, Para-Equestrian and Reining. Para-Equestrian has the most diverse entry list with riders hailing from 10 different states.
Equestrian is one of only two sports governed by the International Olympic Committee where men and women compete as equals. So in Dressage, Driving, Endurance, Eventing, Jumping, Para-Equestrian and Reining, men and women will go head-to-head. They will compete together on teams in Vaulting, and for Individual Female and Individual Male honors in Vaulting. There are 60 women on the Nominated Entry for the United States and 41 men.
Of these nominated entries, Vaulter Ruby Robinson is the youngest at age 11 (she vaults on the Sundae Rush Team) and endurance rider Jan Worthington is 70.
Nominated WEG Riders by State:
Arizona
Josh Rector, Combined Driving, Phoenix, AZ
California
Megan Benjamin, Vaulting, Saratoga, CA
Sue Blinks, Dressage, Encinitas, CA
Blake Dahlgren, Vaulting, Santa Clarita, CA
Alicen Divita, Vaulting, Redwood City, CA
Jan Ebeling, Dressage, Moorpark, CA
Mary Garrettt, Vaulting, Seal Beach, CA
Kenny Geisler, Vaulting, Sunnyvale, CA
Lindsay Graham, Endurance, Napa, CA
Barbara Grassmyer, Para-Equestrian, Placerville, CA
Marisa Hamar, Vaulting, Visalia, CA
Leslie Hamar Taylor, Vaulting, Visalia, CA
Emily Addison Hogye, Vaulting, Ben Lomond, CA
Mari Inouye, Vaulting, Redwood City, CA
Elizabeth Ioannou, Vaulting, Saratoga, CA
Devon Maitozo, Vaulting, Woodside, CA
Mary McCormick, Vaulting, Woodside, CA
Karly Frankel Newman, Vaulting, Woodside, CA
Cassidy Palmer, Vaulting, Half Moon Bay, CA
Colton Palmer, Vaulting, Half Moon Bay, CA
Kimberly Palmer, Vaulting, Half Moon Bay, CA
Steffen Peters, Dressage, San Diego, CA
Shannyn Poer, Vaulting, Venice, CA
Heather Reynolds, Endurance, Los Gatos, CA
Jeremy Reynolds, Endurance, Los Gatos, CA
Katie Richie, Vaulting, San Luis Obispo, CA
Kristian Roberts, Vaulting, Moss Beach, CA
Grace Robinson, Vaulting, Palo Alto, CA
Ruby Robinson, Vaulting, Palo Alto, CA
Rosalind Ross, Vaulting, Aptos, CA
Michele Roush, Endurance, North San Juan, CA
Richard Spooner, Jumping, Agua Dulce, CA
Patrick Stevens, Vaulting, Martinez, CA
Alexandra Thrasher, Vaulting, Redwood City, CA
Susan Treabess, Para-Equestrian, Winters, CA
Katharine Wick, Vaulting, Hillsborough, CA
Colorado
Holly Bergay, Para-Equestrian, Castle Rock, CO
Wendy Fryke, Para-Equestrian, Parker, CO
Florida
Katherine Bateson-Chandler, Dressage, Wellington, FL
Todd Flettrich, Dressage, Royal Palm Beach, FL
Lauren Hough, Jumping, Wellington, FL
Tucker Johnson, Combined Driving, Hobe Sound, FL
Candice King, Jumping, Wellington, FL
Tina Konyot, Dressage, Palm City, FL
Cara Raether, Jumping, North Palm Beach, FL
David Saunders, Combined Driving, Morriston, FL
Pierre St. Jacques, Dressage, Anthony, FL
Chester Weber, Combined Driving, Ocala, FL
Georgia
Becky Holder, Eventing, Palmetto, GA
Illinois
Janice Worthington, Endurance, Scales Mound, IL
Casey Zubek, Combined Driving, Manhattan, IL
Iowa
Ellen Rapp, Endurance, La Motte, IA
Maine
Mary Jordan, Para-Equestrian, Wells, ME
Nevada
Erik Martonovich, Vaulting, Las Vegas, NV
New Jersey
Jim Fairclough, Combined Driving, Newtown, NJ
Margaret Sleeper, Endurance, Frenchtown, NJ
Annalise VanVranken, Vaulting, Mays Landing, NJ
New York
Mario Deslauriers, Jumping, New York, NY
Beezie Madden, Jumping, Cazenovia, NY
Deborah Reich, Endurance, Croton On Hudson, NY
McLain Ward, Jumping, Brewster, NY
North Carolina
Robin Brueckmann, Para-Equestrian, Summerfield, NC
Will Faudree, Eventing, Hoffman, NC
Kathy Groves, Para-Equestrian, Columbus, NC
Holly Hudspeth, Eventing, Raleigh, NC
Bill Long, Combined Driving, Southern Pines, NC
Cindy O'Reilly, Combined Driving, Cameron, NC
Gary Stover, Combined Driving, Southern Pines, NC
Ohio
Jennifer J. Baker, Para-Equestrian, Loveland, OH
Shawn Flarida, Reining, Springfield, OH
Laura Goldman, Para-Equestrian, Highland Heights, OH
Oklahoma
Craig Schmersal, Reining, Overbrook, OK
Oregon
Rich Fellers, Jumping, Wilsonville, OR
Pennsylvania
Buck Davidson, Eventing, Riegelsville, PA
Phillip Dutton, Eventing, West Grove, PA
Rebecca Hart, Para-Equestrian, Erie, PA
Boyd Martin, Eventing, West Grove, PA
Matthew Palmer, Reining, Elverson, PA
Elizabeth Pigott, Para-Equestrian, Downingtown, PA
South Carolina
Kim Jones, Para-Equestrian, Georgetown, SC
Texas
Casey Deary, Reining, Weatherford, TX
Dell Hendricks, TX, Reining, Tioga, TX
Casey Hinton, Reining, Whitesboro, TX
Tom McCutcheon, Reining, Aubrey, TX
Mike McLennan, Combined Driving, Brenham, TX
Tim McQuay, Reining, Tioga, TX
Ceci Butler Stasiuk, Endurance, Humble, TX
Jonathan Wentz, Para-Equestrian, Richardson, TX
Vermont
Melody Blittersdorf, Endurance, Jeffersonville, VT
Virginia
Stephen Bradley, Eventing, Leesburg, VA
Sarah D'Auriol, Vaulting, Suffolk, VA
Kim Decker, Para-Equestrian, Centreville, VA
Laura Kraut, Jumping, Middleburg, VA
Karen O'Connor, Eventing, The Plains, VA
Kim Severson, Eventing, Scottsville, VA
Allison Springer, Eventing, Marshall, VA
Clay Thomas, Vaulting, Newtown, VA
Washington
Erin Alberda, Para-Equestrian, Woodinville, WA
Amy Tryon, Eventing, Duvall, WA
Don't miss the chance to support riders from your state or discipline; tickets are still available for the 2010 Alltech FEI World Equestrian Games. For ticket info, click here.
See all World Equestrian Games news >>
Keep up with the latest World Equestrian Games news with HorseChannel's exclusive WEG newsletter. Subscribe now >>