Yara Hanssen of Zimbabwe competing in the first round of team show jumping at the Youth Olympics. Photo: IOC/FEI
Team Europe has won the coveted team gold at the Youth Olympic Games in Singapore after a nail biting jump-off between three teams in a day of unsurpassed excitement in the jumping arena.
Three teams – Europe, Australasia and Africa – were all on four penalties going into today's second round and it proved to be a battle to the end for these continents. It looked as though Europe would clinch gold when their last rider, Nicola Philippaerts (BEL), cleared fence after fence with Gippsland Girl in what was looking like another wonderful clear for Europe. But a rail down at the last fence left Europe, Australasia and Africa tied on eight penalties, forcing a jump-off against the clock over a shortened course to determine the medal placings.
Both Europe and Australasia picked up four faults in the crowd-pleasing jump-off, but Europe's faster overall time earned the gold, Australasia got silver and Africa bronze, to the huge delight of the riders and their supporters. After the historic presentation of medals for the first ever Youth Olympic Games equestrian competition, the riders galloped joyously around the ring on their lap of honour, elation at winning an Olympic medal evident on every smiling young face.
There were once again some very smooth clear rounds, including those by Martin Fuchs (SUI) who went clear in both rounds of the competition and in the jump-off, where he upped the pace slightly and rode a very tight round on Midnight Mist, for the fastest time.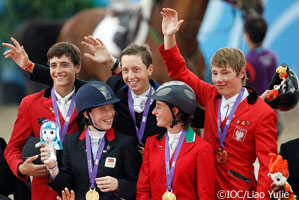 Team Europe celebrates winning gold in the Youth Olympic Games Team Jumping – back row (L-R): Nicola Philippaerts (BEL), Martin Fuchs (SUI) and Wojciech Dahlke (POL) and front row (L-R): Carian Scudamore (GBR) and Valentina Isoardi (ITA). Photo: IOC
There was marked improvement between Wednesday's first round and today's performances, with an increased number of clear rounds. Faultless rounds came from Carian Scudamore (GBR), Guilherme Foroni (BRA), Timur Patarov (KAZ), Jake Lambert (NZL), Caroline Chew (SIN), Mario Gamboa (COL), Dominique Shone (CAN), Sheikh Ali Abdulla M Alqassimi (UAE), Thomas Mc Dermott (AUS) and Samantha McIntosh (RSA). Jasmine Lai (HKG), Wojciech Dahlke (POL) and Xu Zhengyang (CHN), who had not previously gone clear, raised their game against the clock to contribute to their teams' overall score with a clear.
Caroline Chew (SIN) was once again the local hero and after her harmonious clear round on Gatineau, the crowd were in ecstasy. But it wasn't just those who delivered foot-perfect round that earned the appreciation of the spectators. The crowd supported all the riders and the air was abuzz with excitement as each competitor entered the arena. Clear rounds were greeted with enthusiastic cheering and even those who weren't so lucky were applauded enthusiastically as they left the arena.
The team representing North and Central America and the Caribbean Islands came in a disappointing sixth place out of six teams. The riders will have a second chance in the individual competition beginning on Sunday, August 22.