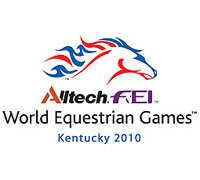 With a month to go before the Alltech FEI World Equestrian Games, title sponsor Alltech is offering fans a last-minute chance to win tickets and other WEG merchandise.
In the Free Tickets Friday contest, Alltech will be giving away a pair of grounds passes every Friday through September 17, 2010. Grounds passes do not include admission to competitive events at the WEG, but will admit visitors into the Horse Park and the rest of the festivities, including clinics, demos, the trade fair, and the Kentucky Experience.
Click here
for full rules for the Free Tickets Friday giveaway.
A second giveaway gives entrants the chance to win one of several WEG prizes. The Grand Prize winner receives a pair of grounds passes, a pair of tickets to the Big Bad Voodoo Daddy concert as part of the Alltech Fortnight Festival, and a WEG prize pack. The second prize winner will get a pair of WEG grounds passes and a prize pack, and a third prize winner will receive a prize pack. Winners will be randomly selected after the entry deadline of September 1, 2010.
Click here for full rules for the giveaway.
Alltech is offering these giveaways in addition to their ongoing YouTube contest. Click here for more information.
See all World Equestrian Games news >>
Keep up with the latest World Equestrian Games news with HorseChannel's exclusive WEG newsletter. Subscribe now >>