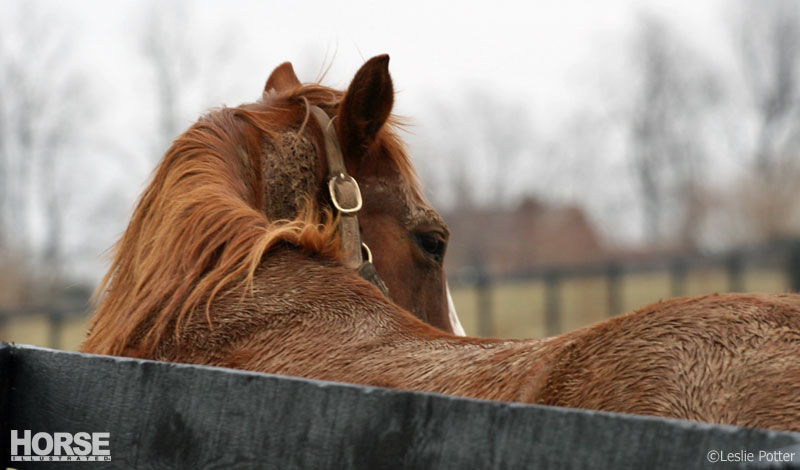 Earlier this year, a trailer loaded with 30 horses overturned when the driver fell asleep en route to a Texas feedlot, a waypoint to what would have been their final destination at a slaughterhouse south of the border.
Eleven horses died in the crash, and two later died due to their injuries. The remaining 17 horses were still under the ownership of the Missouri-based kill buyer who had sent them to the feedlot. Stating his desire to do the right thing for the survivors after the accident, he ultimately agreed to surrender them to Blaze's Tribute Equine Rescue in Oklahoma. The surrender was negotiated by Natalee Cross, president of Blaze's and Cynthia Armstrong of the Humane Society of the United States. The horses left from Missouri earlier this month and arrived in Oklahoma on August 12.
The cost of transporting the horses to the rescue and preliminary veterinary care for these horses was funded by two anonymous donors. According to NewsOK.com, the horses are currently staying in a pasture owned by a Blaze's Tribute volunteer.
Some of the survivors sustained injuries in the crash and are still recovering, while others are already available for adoption. All of the horses are expected to recover and eventually find adoptive homes, though some may require maintenance care for their injuries.
"I am so glad that these horses now have a second chance at life. They were doomed for slaughter for human consumption, suffered a trailer wreck and now have a chance to be part of someone's family," said Cross. "They will know what love is and no longer fear what is around the corner. They have a new beginning."
To learn more about Blaze's Tribute, visit blazesequinerescue.com