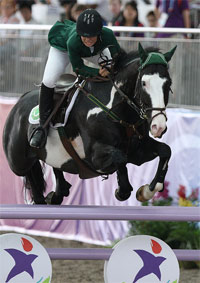 Dalma Rushdi H Malhas of Saudi Arabia rides Flash Top Hat in the jump-off session after the jumping individual round B match at the Singapore 2010 Youth Olympic Games. Photo:

Singapore 2010 Youth Olympic Games
The equestrian events at the inaugural Youth Olympic Games have come to a close with the individual show jumping final. The competition for gold came down to a two-rider jump-off between Marcelo Chirico of Uruguay and Mario Gamboa of Columbia. In the end, Chirico rode a clean round on Links Hot Gossip to gold while Gamboa and LH Titan had a rail at the second fence, putting them in second place.
Six riders had four faults from the first two rounds of competition, leading to a jump-off for the bronze. Dalma Rushdi Malhas of Saudi Arabia and Flash Top Hat came out victorious. This is especially sweet for Dalma, who is the first woman to represent Saudi Arabia in any Olympic Games for any sport.
The rider representing the United States, Eirin Bruheim, had a difficult time with her mount, Lenny Hays, during the team competition. All riders at the Youth Olympics compete with borrowed horses, so luck of the draw plays into the final result. Fortunately, Bruheim and Lenny had a better time during the individual competition, finishing with only 12 penalties total from both rounds.
"Today was really good," Bruheim said after the final round. "I finally felt like I actually understood my horse a bit more. He had calmed down considerably with the crowd. Overall, it was a good experience today and a good way to end the competition."
The Youth Olympic Games are open to athletes aged 14-18 with the intended emphasis on education more than competition. This year marked the first running of the YOG. The International Olympic Committee hopes to continue the YOG with summer and winter games held in alternating, even-numbered years.
For more information and full results, visit singapore2010.sg