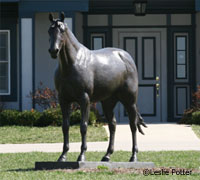 A statue of Secretariat stands in front of the Thoroughbred Retirement Foundation's Maker's Mark Secretariat Center at the Kentucky Horse Park. Photo: Leslie Potter
Secretariat, the 1973 Triple Crown Champion and America's most beloved thoroughbred, will once again be honored during the 3rd Annual Bourbon County Secretariat Festival. The Festival will take place on Saturday, October 2, 2010 in Paris, Kentucky at the Bourbon County Fair Grounds and will feature an array of notables from the world of racing and Hollywood. Secretariat's two Hall of Fame jockeys, Ron Turcotte and Eddie Maple and Meadow Stable exercise rider Charlie Davis are expected to attend this year. The Festival will have a distinct Hollywood flavor with the special guest appearance of rising star Otto Thorwarth, who portrays Turcotte in the forthcoming Walt Disney movie, "Secretariat", scheduled for national release the following week. Penny Chenery can't wait for this year's festival! She said "Happily, the Bourbon County Secretariat Festival has grown into a fall tradition for Central Kentucky. With the nearby World Equestrian Games taking place and the new Secretariat Disney film soon to be released, this year's event in Paris will be a wonderful gathering for horse enthusiasts to enjoy".

The Bourbon County Secretariat Festival will offer a variety of activities throughout the day for adults and children alike to enjoy. The Big Red 5K Foot Race/Walk will kick off on Saturday morning at 9:00 am in historic Paris, beginning and ending at the Festival Site. In the Exhibition Hall, a Secretariat Gallery will feature local and regional artists displaying original artwork and crafts, as well as participating in a "Live Sessions" painting demonstration. All Artwork will be available for purchase. The Exhibition Hall will also host a multitude of trade booths and vendors showcasing official Secretariat merchandise, concessions, art and crafts throughout the day. A Celebrity Autograph Session and Silent Auction, featuring assorted artwork and archival memorabilia from the Secretariat Foundation and hand-painted Woodford Reserve barrels from the Barrel-Mania celebration will coincide with the festivities. Other Festival highlights will include live music by Dale Pyatt, "Lazy Bones," and numerous Kids Events.
Horse enthusiasts can enjoy a variety of events and activities as The Festival will host several equine demonstrations including: Miniature Horses, Rocky Mountain Horses, and Retired Race Horses in Transition. Secretariat Race Videos will be shown throughout the day and tours to Claiborne Farm, where Secretariat's gravesite is located, will be available from 9:00 am – 2:00 pm departing from the Festival grounds. The grand finale to the day is the ever-popular Secretariat Look-Alike Contest held in the Sosby Arena, with $5,000 in prizes to be awarded to the equine participants most closely resembling the great champion.
The Festival will open its gates at 9 am at the Fair Grounds. Admission will be $10.00 per carload or $5.00 per person for adults, children 12 and under admitted free of charge.
Nominated by the Paris/Bourbon County Tourism Commission, the Secretariat
Festival has been selected as one of the "top ten" festivals to attend in Kentucky by the State Tourism Council.
For more information on the 2010 Bourbon County Secretariat Festival, including online registration for Claiborne Farm tours, the 5K Big Red Run/Walk, and the Secretariat Look-Alike Contest, please visit www.secretariat.com.