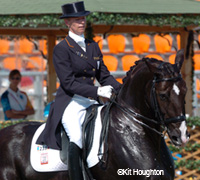 Three-time Olympic gold medalist Anky van Grunsven surprised the equestrian world when she announced that she would not seek a spot on the Dutch dressage team for this year's Alltech FEI World Equestrian Games. Her 2004 and 2008 Olympic mount, Salinero, has been out of work due to an injury. Her other top horse, Painted Black, had been working inconsistently this year. She recently sold him to one of her students.
However, van Grunsven did not let the lack of a dressage horse keep her out of WEG contention. In recent years, she has
picked up the sport of reining
as a hobby, working with top reining trainers while competing in dressage in Florida for the 2008/2009 winter circuit. She made her debut in international reining competition in late 2009.
Van Grunsven was named a reserve rider for the Dutch reining team, and when her teammate Jurgen Pouls withdrew due to an injury to his horse, van Grunsven was asked to step in with her mount, Whizashiningwalla (known at home as Whiz.) Whiz has competed successfully at the international level in Europe, but this year's WEG will be the first time competing in reining a world championship for both Whiz and van Grunsven.
Van Grunsven has made headlines in recent weeks when lawyers for Belgian journalist Astrid Appels stated that van Grunsven was suing Appels over a photo that appeared on the website Eurodressage.com. The image accompanies an article about the International Equestrian Federation's (FEI) ban of rollkur and depicts Salinero's head and neck in an overflexed position. The caption does not identify the horse, but does state that he is being shown in "the rollkur, hyperflexed position." Because the practice is now illegal, van Grunsven claims that associating her horses with the rollkur constitutes defamation.
The FEI's decision to ban rollkur also defined a similar technique called Low, Deep and Round (LDR.) In LDR, the flexion is achieved without undue force, and is therefore considered acceptable. Determining whether excessive force is being used is somewhat subjective and is a decision left up to show stewards for each individual case.
Van Grunsven will likely have many fans and critics on the grounds of the World Equestrian Games this year. Reining kicks off the games with team competition on Sept. 25 and 26, and individual competition on Sept. 28 and 30.
See all World Equestrian Games reining news >>
See all World Equestrian Games dressage news >>
Keep up with the latest World Equestrian Games news with HorseChannel's exclusive WEG newsletter. Subscribe now >>