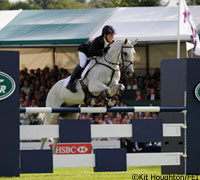 New Zealand rider Caroline Powell rides Lenamore to victory at the 2010 Burghley Horse Trials. Photo: Kit Houghton/FEI
England's Burghley Horse Trials is the third and final leg of the Grand Slam of eventing. This year, the event drew many competitors who will be competing in Kentucky later this month at the 2010 Alltech FEI World Equestrian Games.
Caroline Powell, a New Zealand rider based in Scotland and veteran horse Lenamore went into stadium jumping in first place and turned in a clear round to win her first Burghley championship. The pair had a clear cross-country round as well, allowing them to finish on their dressage score.
2010 Rolex Kentucky Three-Day Event winner William Fox-Pitt came in second with Seacookie after they earned a time fault in their stadium jumping round. Australian rider Clayton Fredericks and German Thoroughbred mare Be My Guest II rounded out the top three.
Powell is the first woman rider from New Zealand to win at Burghley. Lenamore also became the oldest horse to win the event at 17. Powell will be competing for New Zealand at the World Equestrian Games this year, but with a different mount, Mac Macdonald. Although Lenamore is clearly still at the top of his game in UK competition, Powell has retired him from overseas traveling.
Eventing at the World Equestrian Games takes place from Sept. 30-Oct. 3.
See full results from Burghley at www.burghley-horse.co.uk