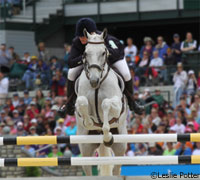 Becky Holder had a lot on the line when she entered the show jumping ring at the Land Rover/USEA American Eventing Championships with Courageous Comet. Not only was she the overnight leader after the first two phases on her dressage score, she also is on the USEF Short List for the Land Rover US Eventing Team for the 2010 Alltech FEI World Equestrian Games and the Advanced Championship was also serving as the USEF National Advanced Horse Trial Championship.
Click here
for video from the final day of AEC competition.
Holder (Chattahoochee Hills, GA) handled the pressure and despite having one rail down, her score of 45.5 gave her the victory over Will Faudree, who put in a convincing performance on Pawlow.
Mark Donovan designed a testing track in the main ring in front of a packed partons tent and many fans. With more than 700 competitors contesting the championships from the Beginner Novice to Advanced level, many turned out to watch the best riders in the U.S. vie for a place on the team for the World Games.
Holder and Comet are reliable for their success on the first day and they were second on Friday with a score of 41.5 in the dressage, they then sped around the cross country course and made light work of the track. But show jumping has sometimes proved the greatest challenge for Holder and the 14-year-old Thoroughbred gelding. The pair maintained their composure and aside from a rail at the first element of the combination, Comet jumped with renewed confidence.
"The rail was me," said Holder. "I jumped in a bit soft and the distances can be long on him so I stepped on the gas and got there early. He's been jumping really well."
For their efforts, Holder picked up dozens of prizes, including $13,500 and the Jack LeGoff trophy. Katie and Henri Prudent, renowned trainers in the show jumping world have been helping the short listed riders, they had a course walk Saturday night and many of them jumped Sunday morning to make sure their horses were in show jumping mode after their cross-country excursions.
"We jumped this morning with Katie, that is always so helpful but nerve wracking," said Holder. "There is almost more pressure in the morning school. Then things were pretty hectic because all of the short listed horses were going all at the same time. But that suited me because I usually only get jump three or four fences just to make sure he is trying hard and happy. I could tell he was going to be good today. He rises to the occasion, he's such a ham. He loves the crowds."
Pawlow delivered a foot-perfect effort for Faudree (Hoffman, NC) who swapped places with Nate Chambers, who had the fastest round of the day on Saturday's cross-country course but had two rails on Sunday to end up third with the 14-year-old Hessen gelding: Rolling Stone II. Faudree and Pawlow picked up Reserve Championship honors in a decisive effort.
"This is the second time that I jumped with Katie the morning before the show jumping," said Faudree. "The jumping in the morning is used to transition him from cross country to the show jumping. To make him more careful and slower – but more than anything it helped me get my eye toned down a little bit. I thought Mark Donavan did a fantastic job with the course, I think he's a great course designer. The time was tight and Katie said, 'If you feel like you need to go inside, go inside but I thought I was pretty quick. He's already a pretty slow thinker and I really planned where I could ride him quite sharp through the turns to keep him moving. It's all about the rhythm but I have to keep his feet moving. He jumped great I couldn't have been happier with the way he jumped."
Jennifer Mosing's 11-year-old Thoroughbred cross gelding cruised through the three phases confidently to finish on an overall score of 50.8. Ninth after the dressage on a score of 44, they picked up 6.8 time faults on the cross country but made light work of the jumping track. Also short-listed for the World Games, Faudree was on the 2006 World Equestrian Games Team with his veteran CCI4* horse Antigua.
Chambers (Reston, VA) took to the course confidently and his two rails down were an improvement from his last two outings. Having produced the horse himself over the last decade, Chambers and Rolling Stone have cemented a partnership through the young riders divisions and now in open company.
"I was very happy with his dressage even though it didn't score as well as I would have liked," said Chambers. "He was a superstar on the cross country so I don't feel like I need to run him again before the Fair Hill CCI3*. The show jumping is slowly and steadily improving with the work I am doing with David O'Connor and Joe Fargis. So before Fair Hill we will focus on continuing to improve the show jumping, maybe taking him to a few jumper shows. But I don't feel like he needs to run any more events between now and then."
So with 17 horse/rider combinations remaining on the Short List, the selectors will have a busy 48 hours ahead of them. Phillip Dutton jumped clear show jumping rounds on all five of his horses: Connaught, Woodburn, The Foreman and Tru Luck. (Fernhill Eagle, who is not on the short list also jumped clear for Dutton). Buck Davidson jumped a double clear round on My Boy Bobby and had one rail on BallyNoe Castle RM and Titanium, the least experienced of his trio. Boyd Martin jumped clear on Remington XXV and had one down on Neville Bardos. Kim Severson and Tipperary Liadhnan jumped clear, as did Stephen Bradley and Brandenburg's Joshua and Holly Hudspeth and Last Monarch and Karen O'Connor and Mandiba. Allison Springer had one down on Arthur and Amy Tryon had two down on Leyland.
See more World Equestrian Games eventing news >>
Keep up with the latest news from the 2010 Alltech FEI World Equestrian Games. Subscribe to HorseChannel.com' s exclusive WEG Newsletter