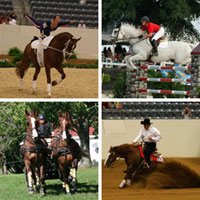 UPDATE:
The 2010 Alltech FEI World Equestrian Games broadcast schedule for Universal Sports and UniversalSports.com has been released. UniversalSports.com will stream 65 hours of WEG competition while digital cable channel Universal Sports will broadcast approximately 18 hours. This is in addition to the 6.5 hours on the NBC network. Highlights will also be available for online viewing at
www.feitv.org
.
Click here
for the full broadcast schedule for NBC, Universal Sports and UniversalSports.com.
Original Article:
After years of counting down, the city of Lexington, Kentucky is a week away from the 2010 Alltech FEI World Equestrian Games. The first WEG competitors will enter the arena at 9:00am EDT on Saturday, September 25 and the opening ceremonies take place on that evening. Are you ready for the world's largest equestrian event?
If You're Not Attending the Games…
-Subscribe to the WEG Daily Update right here at HorseChannel.com. We'll be bringing you the news, results, and full photo coverage of all WEG events, and subscribers to this newsletter will get to see it first. Note: Subscribers to the regular HorseChannel.com newsletter are NOT automatically signed up for the WEG newsletter. Click here to subscribe to the WEG Daily Update.
-Get your DVR, TiVo, or programmable VCR ready, or just clear your weekend schedule. NBC will be broadcasting 6 ½ hours of coverage of the games over the course of three weekends. The current schedule follows, but remember that this is variable, so check your local listings. All times listed below are Eastern Daylight Time.
Sunday, Sept. 26, 12:00pm-1:30pm
Sunday, Oct. 3, 1:00-6:00pm
Sunday, Oct. 10, 4pm-6pm
-If you can't wait for the weekends or want more than just the highlights, WEG events will also be streaming online at NBCSports.com and UniversalSports.com. Start thinking about how you're going to rearrange your cubicle so that your boss can't see that you're spending all day watching the horses.
Click here for the full TV and online streaming schedule.
If You're Coming to Lexington for the WEG…
-Believe it or not, it isn't too late to buy tickets. A few sessions are sold out, but most are still available. However, tickets will not be on sale at the gate, so get them now. Find out what seats are still available and get all the info on tickets at alltechfeigames.com/tickets.
-Break out and break in your walking shoes. If you don't want to walk the half-mile from your car to the Horse Park, free shuttles will be available to bring spectators from parking to the gates. From there you could find your seat and stay in it and your WEG experience will require minimal walking. But really, you'll probably want to wander around the trade fair and watch some clinics and demos at the Equine Village. If you have tickets for cross-country or the combined driving marathon, you'll be doing even more walking to get to the best spots on the course. So lace up and get ready to burn some calories.
-Before you pack your bags, know what you can and cannot bring to the WEG. Pack your point-and-shoot camera but leave your pro camera and telephoto lens at home. You can't bring food, but contrary to what you may have heard, you will be allowed to bring in bottled water or other beverages in a plastic container. Hire a pet-sitter. No outside animals, with the exception of service dogs, will be allowed on the grounds during the games to prevent the spread of disease. See the full list of restricted items and more information here.
Whether you're coming to Kentucky or enjoying the Games from your living room, remember to visit HorseChannel.com/WEG2010 each day for the latest news, results and photo coverage from all of the World Equestrian Games Events.