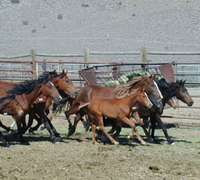 The Bureau of Land Management (BLM) currently has more than 36,000 wild horses and burros in short- and long-term holding. While some find new homes through adoption events, many are left in holding indefinitely.
After becoming aware of the wild horses' plight, billionaire philanthropist
Madeleine Pickens
stepped up with a plan to move Mustangs from BLM holding to eco-sanctuaries. Under Pickens's plan, horses would be allowed to roam in a relatively natural state, but the sanctuary would be open to visitors wishing to learn more about wild horses.
The plan has remained fairly stagnant since Pickens first proposed it in 2008. On September 16, 2010, Pickens announced that the BLM had agreed to support a pilot program for the wild horse eco-sanctuary.
"We are so thankful for the opportunity to start our pilot program with 1,000 horses, and we aim to get all 36,000+ horses in holding soon after," Pickens said on her website. "Saving America's Mustangs gives our sincerest thanks for the monumental cooperation on the part of the BLM for an alternative to the holding pens."
If Pickens's plan is successful, it will help alleviate the problem of too many Mustangs in captivity with too few potential adopters. However, wild horse advocates are still working to end the BLM's wild horse gathers, claiming that the horses should be left to live on the western rangeland without interference. The BLM counters that ending the gathers isn't an option as the herds can double in size every four years and the ecosystem cannot maintain such an overpopulation.
For more information on Madeleine Pickens and her plan for wild horses, visit www.savingamericasmustangs.com
For more information on the BLM's wild horse and burro program, visit www.blm.gov/wo/st/en/prog/wild_horse_and_burro.html