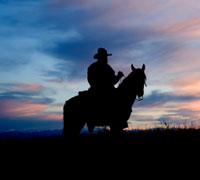 In a generation where American Idol, America's Got Talent and other reality competition shows have discovered amazing talent, Project Cowboy is changing the way the equine world finds its stars. Project Cowboy will crown the next great American horseman, and this ain't your daddy's old rodeo.
Contestants will be vie for the Project Cowboy title and a $10,000 paycheck in Fort Worth, Texas from October 8-10. The last cowboy standing will have to endure three days of grueling competition that will test horsemanship ability, readiness to be in front of a camera, general horse knowledge while under fire and livestock handling skills but will emerge as a star. The winner will receive $10,000 cash, a Martin trophy saddle and a Gist trophy buckle. Their career will be launched with an invitation to appear at the 2011 Road To The Horse Legends World Championship and 2011 Extreme Mustang Makeover Events, as well as other major equine events and expos as a clinician. Equine venues looking for hot, fresh, innovative clinic presenters will not want to miss this opportunity to get a sneak peek at the future of the industry and book talent before it's too late.
Project Cowboy, jointly produced by Tootie Bland Productions, creator of the popular Road to the Horse competitions, and Patti Colbert Enterprises, producer of the Extreme Mustang Makeover events, will be held at the Will Rogers Equestrian Center's Watt Arena. Watt Arena offers an intimate audience experience, but seats are very limited. Only 1,000 tickets are available to watch this exciting competition that the entire equine industry will be talking about. Only one ticket is needed for all three days of competition. Some of the best seats in the arena are available for $100. These seats will be on the "50 yard line" and will also include exciting surprises to be announced at the event. Other seats are also available for $50. Tickets are available to purchase at www.projectcowboy.net.
"Project Cowboy is a fresh approach to discovering that amazingly talented horseman or horsewoman and launching their career," says co-producer Patti Colbert. "We are cramming a season of American idol into three days, and fans are going to be entertained and awed by the talent displayed in Wyatt Arena. The hopes and dreams of one of the 170 Project Cowboy hopefuls will be realized on October 10, and audience members will witness history in the making!"
Project Cowboy will include several rounds of competition that will challenge the horsemanship and communication skills of the competitors. All competitors, riding their own horse, will be challenged to showcase their talents in the pen and on the screen. Elimination rounds will progress by offering more diverse and challenging obstacles to prove who will receive the title of "the Great American Horseman."
Project Cowboy is the most unique equine-related talent search to ever be held. Never before have horsemen and women from different riding disciplines been able to showcase their talents in this way and display their training ability with their own horse and with unknown horses while competing for more than $10,000 in cash and prizes. Visit www.projectcowboy.net for more information and for ticket information.