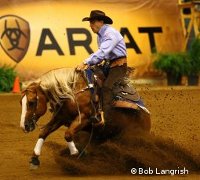 With a team score of 444, the United States leads the standings after the day one of reining team competition at the 2010 Alltech FEI World Equestrian Games (WEG), followed by Austria with 432.5 and Brazil with 425 points.
Tim McQuay and Hollywoodstinseltown were the leaders with a score of 220.5 following the morning round, but Italy's Stefano Massignan and Yellow Jersey presented a stunning run in the afternoon to take over first place with a 224. The United States' Craig Schmersal also put in a stellar run on Mister Montana Nic, but his score of 223.5 fell just short of a first-place finish, leaving him in second. German rider Grischa Ludwig on Hot Smokin Chex is currently tied with McQuay for third place.
Dressage star Anky van Grunsven and the palomino gelding Whizashiningwalla BB were in fifth place after the first round of competition in van Grunsven's first WEG as a reining competitor. Originally scheduled to compete in both dressage and reining, the Dutch rider withdrew from dressage with concerns about the health of her mount, Salinero. She is currently in 14th place after day one.
The team competition resumes Sunday, Sept. 26 and individual competition starts on Tuesday, Sept. 28. For today's complete results, go to www.alltechfeigames.com.
See all World Equestrian Games reining news >>