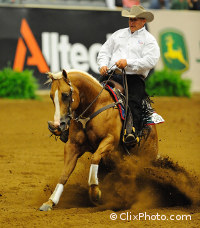 Shawn Flarida (USA) was the top finisher at the end of team reining competition. Photo: Shawn Hamilton/ClixPhoto.com
In an amazing show of talent and strength, the United States held on to its lead on day two of the team reining competition to take home its third consecutive World Equestrian Games (WEG) team gold medal with a score of 674.5. Belgium earned the silver medal, representing their first appearance on the WEG medals podium for reining. Italy also made it to the podium for the third consecutive year in the bronze medal position.
U.S. rider Shawn Flarida captured first place individually and the hearts of the enthusiastic audience with his performance on RC Fancy Step, earning a 227, three points ahead of fellow team member Tom McCutcheon and Italy's Stefano Massignan, who tied for second with a 224. U.S. reiner Craig Schmersal finished in a close fourth with a 223.5.
"For the individuals I need to go back and repair some things," says Flarida of his run on the Wimpys Little Step palomino stallion. "He didn't run down the left side as good as he could have, but he was good. His circles were great. He's a strong horse, and I was so proud of him." Flarida says he will give his horse some downtime before gearing back up for the individual finals on Thursday. "I'll let him come down a bit, and then I'll start building back up and see what the pattern is and prepare him for his strengths in that."
When asked in a press conference how he felt about working with the U.S. team as chef d'equipe, Jeff Petska said, "What better group could you have? These guys are great to work with and very appreciative. They're conscious of how much it takes to get a team here, and they're serious about their responsibility. They're tremendously talented."
Despite rider Jan Boogaerts having to switch horses just before WEG, he and the entire Belgium team put in strong performances to earn the silver medal.
"Four or five weeks ago, my horse got an infection in his stifle and he had to be operated on," says Boogaerts, expressing sincere gratitude for the opportunity to ride the alternate horse.
While team Italy is happy to be bringing home another medal, they hope to improve in the future. For full results from the team reining competition, go to www.alltechfeigames.com/results
See all World Equestrian Games reining news >>
Keep up with the latest World Equestrian Games news with HorseChannel's exclusive WEG newsletter. Subscribe now >>