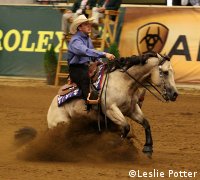 Lee Rutter earned the top score in the individual qualifying competition for reining at the World Equestrian Games. Photo: Leslie Potter
Lee Rutter of Great Britain leads a group of five reiners who made the cut in Tuesday's qualifying round for the 2010 Alltech FEI World Equestrian Games (WEG) reining individual finals on Thursday. A score of 217.5 on Setting Off Sparks put him one point ahead of teammate and second-place finisher Doug Allen on Don Julio Whiz.
Fredrik Thomsson finished third on Gallos Stylish Star with a 216 to become the first Swedish rider to qualify for the individual finals in reining at the WEG. Warren Backhouse and Hubertus Heule of Australia and the Netherlands respectively tied for fourth, and Ruben Pacheco Cuevas of Mexico rounded out the top five on Topsail Command.
After his horse stumbled partway through the pattern, Dario Carmignani of Italy demonstrated respect for the welfare of his equine partner by choosing not to finish. He and Red Chic Peppy helped Italy earn the bronze medal in the team competition earlier this week.
The five riders who have qualified for Thursday's individual finals will join those who qualified during Saturday and Sunday's team competition, including all four team gold-medal-winning U.S. riders, Tim McQuay, Tom McCutcheon, Craig Schmersal and Shawn Flarida.
Thursday's competition will complete the reining portion of the 2010 WEG. The individual finals will take place at 1 p.m. For complete results from today's qualifying round, go to www.alltechfeigames.com/results.
See all World Equestrian Games reining news >>
Keep up with the latest World Equestrian Games news with HorseChannel's exclusive WEG newsletter. Subscribe now >>