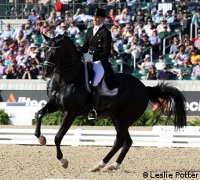 Edward Gal and Moorlands Totilas won individual gold in the Grand Prix Special on Wednesday afternoon. Photo: Leslie Potter
Sporting gold bell boots to match his medal, Totilas took a victory lap in the Grand Prix Special dressage competition at the Alltech FEI World Equestrian Games. Dutch rider Edward Gal piloted the 10-year-old black Dutch Warmblood stallion to a score of 85.70 and a standing ovation from the crowd. The pair earned a total of 40 10s from the judges.
Claiming silver for the British with an 81.70 was Laura Bechtolsheimer aboard Mistral Hojris while Steffen Peters and Ravel took bronze for the United States, scoring 78.54.
It's hard to watch Totilas' extravagant movement without wondering what it's like to ride such a horse. "People ask that all the time," said Gal. "It's so difficult to explain because it's a feeling. You have to ride him to feel it. He gives me so much energy and power yet you still have the feeling you can control it. I know he is always there for me and that's the feeling I get when we enter the arena. He doesn't want to makes any mistakes, even sometimes when I screw up. He's such an amazing horse."
Gal said Totilas was much more relaxed today than in yesterday's team Grand Prix competition. "I could take a lot more risks today [in my riding] and it worked out and he gave me a fantastic feeling. We really had a good time today," he said.
Bectolsheimer Takes Silver for Brits
After winning team silver in the team Grand Prix British rider Laura Bechtolsheimer was seeing silver again with a powerful performance aboard Mistral Hojris. The pair again demonstrated superb talent in the piaffe and passage, earning quite a few 10s on their scorecard for the movements to go up against Gal and Totilas.
Despite the pressure and intense competition, the atmosphere among the dressage riders was positive and supportive. "It's exciting to be a part of the sport when it's developing so much and so fast," said Bechtolsheimer. "It used to be just Anky and Isabell would win, and it was a given. Now there are quite a few of us and we really want to fight for it and now we've been given a chance and it's a little more exciting."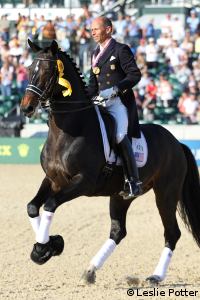 Steffen Peters and Ravel won the bronze, becoming the first American rider to win a medal in a dressage world championship. Photo:Leslie Potter
Rave Reviews for Ravel
It was an emotional moment for Steffen Peters on the podium as he claimed the bronze. "I can tell you pretty much how many years, days and hours it was since Hong Kong [Olympics] when I missed that bronze medal," said Peters, admitting that he has never expressed how tough that was for him. "When it finally happened today, it was huge. … there were some tears there on the podium. I just can't believe how lucky I am to ride a horse like this, and what he did for me today was just unbelievable."
Going into the test the stakes were high, but Peters said his horse was ready for it. "Ravel still felt very, very strong. He didn't feel one single bit tired. He was still going for the extensions like he was yesterday. His passage felt amazing. His strength is always the half-pass in trot. It worked out beautifully, and I can't even tell you what I felt getting done with this test and then having the crowd behind me. It was just an amazing experience."
Freestyle Preview
The 15 top ranked riders will compete in the Grand Prix freestyle Friday, October 1 at 7 pm EST to wrap up dressage competition in Kentucky. Can Edward Gal and Moorlands Totilas pull off the hat trick for three gold medal wins at this world championship?
"Normally it's my best test," said Gal. "I hope I can show it Friday, but I think it will be a big show here with all the lights and the people, and the atmosphere will be fantastic. And we just have to see how well Totilas will react to that. I will do my best; I'm sure he will do his best, so we will try again Friday night."
Nothing could dampen Peters' enthusiam. "If it goes well, it's going to be the icing on the cake. Even if it's not a good freestyle. I am so pleased with the last couple of days. I am beside myself," said Peters. If Ravel can make a little history today, it's huge."
For complete results from the Grand Prix Special, visit www.alltechfeigames.com/results.