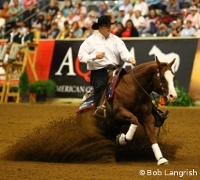 The United States' Tom McCutcheon rode Gunners Special Nite to a 228 to top the reining individual final at the 2010 Alltech FEI World Equestrian Games and take home his second gold medal of the event.
"If you can run in and hit the first stop it starts everything off right," says McCutcheon of his run. "[My horse] felt good to me all the way through. Everything I wanted to do, he was right there. All the way through he got stronger and stronger."
McCutcheon's teammate Craig Schmersal earned the silver medal on his 12-year-old bay stallion Mister Montana Nic, and 2006 WEG gold-medalist Duane Latimer of Canada finished in third for the bronze.
Sunday's team competition leader, U.S. rider Shawn Flarida, experienced a tack malfunction that took him out of the running for a medal.
"My stirrup broke and I grabbed the saddle horn," says Flarida. "I had to go through three-quarters of the pattern without a stirrup." But the seasoned champion just laughed it off as a minor bump in the road of his already stellar career. "It's OK; there'll be another one," he says. "It was fun to be here."
The other leader from the team competition was Italy's Stefano Massignan, whose score of 213 on Yellow Jersey also wasn't enough to stay in contention. The United States' Tim McQuay finished just out of the medals in fourth with a 222 on Hollywoodstinseltown.
The air in the Alltech Arena was electric, with possibly the largest crowd the event has seen this week. Audience members cheered for all of the competitors, regardless of what country they called home. The horses and riders showed tremendous talent, and for some who were riding for the third time this week, immense strength and stamina. For complete results, visit www.alltechfeigames.com/results.
See images from Thursday night's reining freestyle exhibition.
See all World Equestrian Games reining news >>
Keep up with the latest World Equestrian Games news with HorseChannel's exclusive WEG newsletter. Subscribe now >>
WEG Reining Medal Standings

Team
Individual
United States
Tom McCutcheon (USA)
Belgium
Craig Schmersal (USA)
Italy
Duane Latimer (CAN)