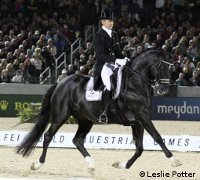 Superstar dressage duo Edward Gal and Moorlands Totilas of the Netherlands won the Grand Prix freestyle at the 2010 Alltech FEI World Equestrian Games to earn their third gold medal of the event, achieving an amazing feat and a world record. Even with two seemingly costly mistakes, Gal and the 10-year-old Dutch Warmblood stallion were able to steal the lead from Great Britain's Laura Bechtolsheimer and Mistral Hojris, who earned the silver medal with an 85.35 percent. U.S. rider Steffen Peters rode his 2008 Olympic mount Ravel to a rock montage featuring Coldplay and the Rolling Stones to clinch the bronze medal.
Arguably the crowd's favorite performance was that of Spain's Juan Manuel Muñoz Diaz and his grey PRE stallion Fuego XII, whose animation and suspension in the canter pirouettes, tempi changes and passages made the difficult maneuvers seem almost too simple. The crowd erupted when Diaz rode one-handed to tempi changes every stride down the centerline, but to their dismay the pair finished fifth with an 81.45 percent. The Netherlands' Imke Schellekens-Bartels and Hunter Douglas Sunrise placed fourth with an 82.1 percent.
| | |
| --- | --- |
| Laura Bechtolsheimer and Mistral Hojris | Steffen Peters and Ravel |
| Imke Schellekens-Bartels and Hunter Douglas Sunrise | Juan Manuel Muñoz Diaz and Fuego XII |
Christoph Koschel and Donnperignon of Germany, who won the bronze medal in the team competition earlier this week, received a collective "aw" from the crowd when they rode into the arena to The Police's "Every Breath You Take." However, the performance failed to take the judges' breath away, leaving them in 10th place with a 76.1 percent. Other spectator-favorites included seasoned pros Isabell Werth and Warum Nicht FRH of Germany, and Canadians Ashley Holzer and Pop Art.
Following the awards ceremony, Peters rode the victory lap wearing his helmet instead of his top hat in honor of fellow U.S. dressage rider Courtney King-Dye, who suffered a severe head injury during a riding accident last winter.
"I sent an e-mail to Courtney today and said, 'I'd like to [dedicate] this ride to you,'" he said in a press conference after the competition. "She has inspired me with what she has been through the last six months."
For full results from tonight's freestyle, visit www.alltechfeigames.com/results.
WEG Dressage Medal Standings

Team
Individual
Freestyle
The Netherlands
Edward Gal (NED)
Edward Gal (NED)
Great Britain
Laura Bechtolsheimer (GBR)
Laura Bechtolsheimer (GBR)
Germany
Steffen Peters (USA)
Steffen Peters (USA)