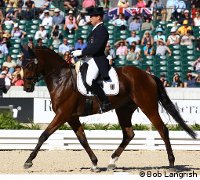 Michael Jung of Germany leads the standings after the dressage phase of the WEG three-day event. Photo: Bob Langrish
The second and final day of eventing dressage on Friday saw a big shake-up in the placings, although Germany continued to top the leader board in both team standings and individual rides. Five new riders scored in the 30s with superb tests, including U.S. rider Becky Holder and Corageous Comet, who are competing for an individual medal.
Germany's Michael Jung, riding La Biosthetique-Sam FBW, was one of the last to go of the day. As has become the norm for riders from his country, he threw down a spectacular test to clinch the two-day lead with a 33.0. "The horse is an absolute bundle of energy," said Jung. "For the last two years he has performed beautifully, but you can never really prepare for an event like this!"
Stefano Brecciaroli of Italy, riding in a military police uniform, rode Apollo van de Wendi Kurt Hoeve into second place with a score of 35.5. "I've only had two years with this horse, and today he did the job for me, even with very little experience at this level," said Brecciaroli.
Thursday's leader, Simone Deitermann of Germany, fell to third place after the dressage wrapped up on Friday.
Belgium's Karin Donckers, who was recovering from a broken arm she suffered just three weeks ago, had a flashy test on the mare Gazelle de la Brasserie CH for a fourth-place score of 38.80. "Thanks to my dressage trainer who rode her every day when I couldn't, the mare who always does a good job did it again," said Donckers. "You can always count on her–even with a big crowd, she stays cool."
The elimination of French rider Karim Florent Laghouagh aboard Havenir d'Azac after their test was over due to blood in the stallion's mouth drew some speculation until President of the Ground Jury Marilyn Payne cleared things up. "We saw a little pink in the middle of the test; when he turned the corner to do the last two [flying] changes it had gotten much worse, so we decided to let them finish. He was then inspected, and it was definitely blood." FEI rules state that a horse must be promptly disqualified for blood in the mouth during a dressage test.
On a happier note, Payne said the top tests were all exciting to watch. "We don't get nervous until they start riding their tests and getting better and better. You want to give good scores! It looks like fun and the horses seem to enjoy it."
At 10:00 a.m Eastern time on Saturday, the first horse will embark on the world championship cross-country course designed by Michael Etherington-Smith. Stay tuned for for a full report, as the standings are sure to change quite a bit after the taxing endurance challenge.
INDIVIDUAL RESULTS
1. Michael Jung (GER) 33.0
2. Stefano Brecciaroli (ITA) 35.5
3. Simone Deitermann (GER) 36.0
4. Karin Donckers (BEL) 38.8
5. Becky Holder (USA) 39.3
18. K. O'Connor (USA) 44.8
29. Bruce (Buck) Davidson Jr. (USA) 47.0
32. Phillip Dutton (USA) 48.2
36. Boyd Martin (USA) 49.5
TEAM STANDINGS
1. Germany 114.30
2. Great Britain 128.50
3. Sweden 131.20
4. Australia 131.80
5. Italy 135.90
6. New Zealand 138.30
7. United States 140.00
8. France 144.40
9. Canada 147.50
10. Belgium 148.10